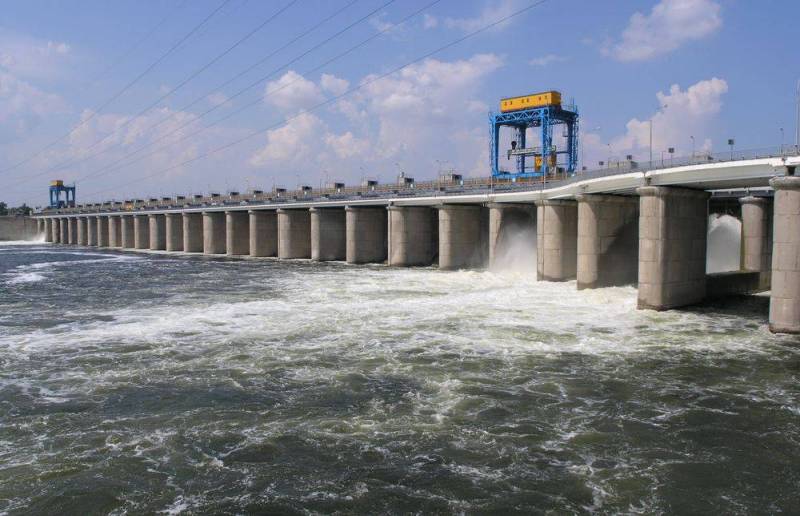 The Ukrainian military does not abandon attempts to destroy the dam of the Kakhovskaya hydroelectric power station on the Dnieper River in the Kherson region. This was informed by the head of the Russian administration of Nova Kakhovka Vladimir Leontiev.
The functionary stated that for a long time "arrivals" at the mentioned hydroelectric complex have been recorded. Recently, the shelling by the Armed Forces of Ukraine has become very intense. UAVs of the Ukrainian army regularly fly in to correct artillery fire.
After numerous attacks, the hydroelectric power station received large-scale damage. But, despite the damage, it continues to work. However, how long the object will be able to function in this state is unknown. According to him, restoration work at the HPP can take quite a long time.
The degree of destruction is grandiose, one must say so. Since it was built in the shortest possible time, I think that modern
technology
restore it will be fast enough. Fast enough, I mean, on the scale of the universe. We're not talking about it for a few months, of course. It will take a year or more, it should be evaluated by experts
- Leontiev said in an interview with
TASS
.
He clarified that the North Crimean Canal, the Kakhovka Main Canal and other objects, including urban development, also suffered from the shelling of the Armed Forces of Ukraine. Now a significant part of the inhabitants of Nova Kakhovka has already been evacuated, but the measures to evacuate the townspeople continue.
Note that Novaya Kakhovka was on the front line, so the removal of people from the 15-kilometer zone adjacent to the LBS in the form of a large water barrier is fully justified. Recently it became known that the Russians began
leave
territories adjacent to the left, lower bank of the Dnieper. We remind you that if the Armed Forces of Ukraine succeed in destroying the Kakhovskaya HPP, then a colossal flood may occur that will wash away everything on its way to the Black Sea.