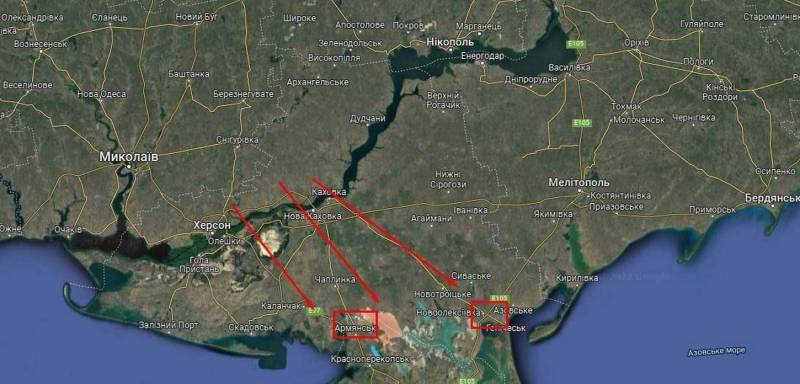 After the maneuver of the Russian troops on the transition to the left bank of the Dnieper in Kherson, the Armed Forces of Ukraine get the opportunity to fire on the roads supplying the units of the RF Armed Forces in the southern direction from Crimea. Serhiy Kuzan, adviser to the Ukrainian defense ministry, announced this in an interview with the Financial Times.
Thus, in the event that the Armed Forces occupy the right bank of the Dnieper, under the fire of Ukrainian artillery, the paths of the "land bridge" to the Crimean peninsula will turn out to be: the highways Kherson - Armyansk, Kherson - Melitopol and Melitopol - Dzhankoy. According to Kuzan, "this will be a big blow to the Russian forces."
Along with this, ammunition depots and logistics centers of the RF Armed Forces, which ensure the fulfillment of the tasks of the special operation in the southern direction, will be in the zone of destruction of the Ukrainian armed forces.
Meanwhile, sources report that the Antonovsky bridge in Kherson was blown up, which became a kind of signal about the completion of the withdrawal of Russian units from the right bank of the Dnieper. In addition, there are suggestions about the destruction of the bridge to the Kakhovskaya HPP.
Meanwhile, on the night of November 11, the Armed Forces of Ukraine delivered six strikes on a civilian crossing in Kherson, where a very difficult combat situation is developing.
Earlier, Russian Defense Minister Sergei Shoigu ordered the withdrawal of troops from the right bank of the Dnieper in Kherson, guided by the priority of saving the lives of military and civilians.