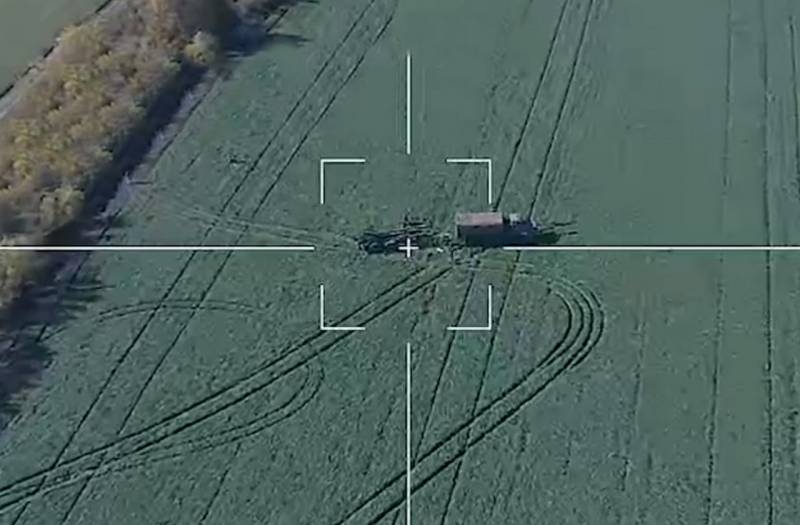 In the process of the Russian NWO on Ukrainian territory, evidence of certain events is periodically published. A video of the defeat of the European howitzer FH70 of the Armed Forces of Ukraine of 155 mm caliber appeared on the Web, which was filmed, among other things, by the UAV-kamikaze "Lancet" of the RF Armed Forces that destroyed it.
The footage shows how a reconnaissance drone detects a towed artillery system. Then, at the indicated coordinates, the Lancet rushes, which also conducts video filming of the approach to the target. It can be seen how Ukrainian servicemen (gun crew) run away from the inexorably flying loitering ammunition. There are also shots of objective control. Thus, there is no doubt about the authenticity of the event.
It should be noted that the FH70 self-propelled towed howitzer appeared in 1976 after 7 years of research collaboration between designers from Great Britain, Germany and Italy. It replaced the American 155 mm Howitzer M114 howitzer and the British 5,5-inch 140-mm gun (BL 5.5-inch Medium Gun) of World War II. FH70s were also produced under license in Japan. Since the end of May 2022, they have been used by Ukrainian troops, who even use M549A1 active rockets with a firing range of over 30 km, supplied from the United States. It is known that 8 FH70 units were then transferred to Ukraine by Italy and 8 units by Estonia (manufactured by Germany).
As for the Lancet kamikaze UAV, it was developed by the Russian company ZALA (part of the Kalashnikov concern) and was first shown to the public at the Army-2019 exhibition. Moreover, the drone can be in several versions to perform various functions. Moreover, the performance characteristics of the versions differ significantly, as the manufacturer is constantly working on improvement. For example, experiments are being conducted to destroy enemy drones in flight.