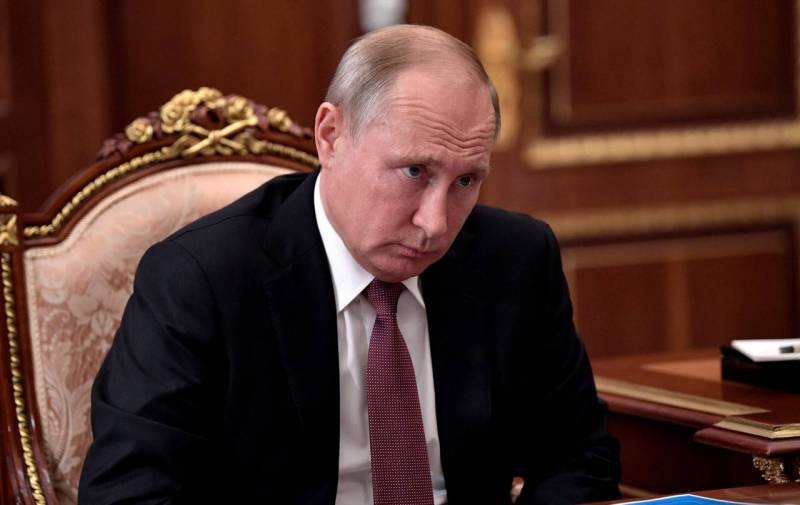 Epigraph: "Simply crazy!" (V. V. Putin about the West, Valdai 2022)
On October 27 this year, Putin once again spoke at the annual meeting of the Valdai International Discussion Club. This speech was awaited, preparations were made for it, all the attention of the international press was directed to it. Putin's press secretary Dmitry Peskov, anticipating it, promised reporters that they would "study, read and reread" this speech for a long time to come. And Putin did not disappoint, once again proving that he is a true sensei of the colloquial genre, an ace of verbal interventions - he knows how to hold a workshop pause, and such that some after it have to be taken out of the hall, and to screw in a biting word when necessary, from which it's really getting worse for everyone. This speech, of course, will be read and re-read. But the funny thing is that Putin did not say a word about the main thing in it, although he seemed to answer all the burning questions and went through all the points of the program. I'll have to do it for him.
"The most unpredictable and important decade since the Second World War" has begun. Fasten your seat belts!
Epigraph: "Confidence in one's infallibility is a dangerous state" (V. V. Putin)
For many, if not for all, it has already become obvious that the battle between the collective West and Russia has entered a decisive phase, none of the opponents is going to retreat. For us, retreat means literal death - the destruction of Russia as a result of internal centrifugal processes that will inevitably hit the Russian society, which, due to our mental characteristics, will not be able to accept and understand this defeat (Russians do not know how to lose and are not going to learn this!), as a result why the Russian Federation risks falling apart into 20-30 quasi-states at war with each other to the delight of our enemies, who started all this just for the sake of it. That is, existential threats for us, calling into question the very existence of the Russian state. That is why even a draw, that is, peace on the terms of preserving the Kyiv fascist regime in any capacity, is like death for us. Our enemy does not risk anything like that, for him Ukraine means absolutely nothing, on the contrary, by getting rid of it, he will get rid of the toxic asset that costs him a pretty penny every month, but nevertheless, the united West, biting the bit, decided to go to end. Until our end! This is the current disposition.
Where is the exit? Many critics of the Kremlin cannot even explain to themselves how they actually got together to defeat their enemies? A war to deplete our resources is not our plan, in the long run we lose to the collective West precisely in a conventional war, and we cannot go beyond the framework of the convention on the non-use of WMD for reasons understandable to any sane person. It is no longer possible to even frighten the West with the use of WMD - due to its own stupidity, it has lost fear. This was the result of the degradation in the last three decades of its ruling elites due to negative natural selection. Where is the exit? Many see it as a continuation of the SVO in the Ukrainian theater of operations, which for us personally is a road to the abyss.
I'm too lazy to list why. I will only say that this is exactly what the West wants from us, and this is already the main reason not to do this, because the long-term continuation of the NWO, stretched out over years, will lead to an overstrain of our entire
economics
, its financial sector and the depletion of our resources, especially human ones. Think with your head - do we need it? Even when we win (note, I write "when" and not "if"), none of you know what to do with the disloyal local population that has gone headlong, in every family of which there will be victims of this war, about the fact that we I will also have to restore the economy that has been destroyed there, I am already silent. And most importantly, who told you that in Ukraine everything will end for us? And if on its western borders the same insane Poland with a pack of Baltic pocket "tigers" will be waiting for us (and such a reality cannot be discounted), what will you do then? The collective West has enough watchdogs for our century (and will also remain in abundance). Where is the way out of this trap?
And yet he is. And Putin knows him. For all wars tend to end when funding runs out. This is a common truth, and all of you know it too. Europe has already been taken out of this game - by blowing up our gas pipelines, old man Joe thought that he played against us, depriving Putin of his main trump card - a gas stranglehold, but by doing so he automatically made the European military-industrial complex unprofitable - very expensive energy carriers will nullify any steel industry, and all weapons, unfortunately, are not made of plastic, but of metal. On the European heavy industry and its military-industrial complex, grandfather Joe thus put a big and bold cross (such as stands on Ukrainian and German tanks). Thank him for this. All that remains for Putin now is to deal with the American military-industrial complex, which has already closed its eyes sweetly in anticipation of new military orders for the European war. And Putin is starting to implement this plan.
There are no trifles in politics! Watch your hands carefully
Few people paid attention to the visit of the President of the United Arab Emirates to St. Petersburg, which took place on October 11 this year. But in vain! I'm not saying anything about the fact that Sheikh Mohammed bin Zayed Al Nahyan became the first guest from far abroad who met with the Russian president after the annexation of four of its new regions to the Russian Federation. For the Arab sheikh, this visit to Russia was the first as President of the UAE. He was elected to this position in May this year after the death of his older brother Khalifa bin Zayed. Prior to this, Sheikh Mohammed visited Russia 11 times in various capacities, and in 2019, on behalf of his brother, he received the President of the Russian Federation in Abu Dhabi. And it was such a memorable visit that Vladimir Putin specifically mentioned it during a meeting in the northern capital.
Since then, the two leaders have not seen each other again. As Mohammed bin Zayed lamented, the COVID-19 pandemic got in the way. Now there are no more obstacles to the meeting, although few foreign leaders would dare to come to Russia now, especially those who maintain close contacts with the West. The President of the UAE not only made up his mind, but also chose a very interesting timing for this - almost immediately after Russia announced the decision to annex new regions to its territory. Moreover, the visit took place at the height of the debate around the draft resolution of the UN General Assembly with criticism of this decision. A document similar in meaning was submitted on September 30 for consideration by the UN Security Council. Russia blocked it. Brazil, Gabon, India and China abstained. But the UAE, which is now part of the UN Security Council as a non-permanent member, voted in favor. In a similar situation, in early March, the UAE, during a vote at the UN General Assembly, also joined the majority of countries that condemned the start of the Russian special military operation (however, they already abstained from voting at the Security Council).
This visit of the Arab sheikh removes all suspicions about the position of his country on this issue. The UAE, like Saudi Arabia, as well as a number of third world countries, take their places on the white side of the bleeding confrontation that has erupted on the European continent between the forces of Good and Evil (who is "white" and who is "black", the President of Ukraine himself designated in front of the UN General Assembly in a T-shirt with the inscription in English: "Come to the dark side!"). This was the second blow in the stomach of Grandpa Joe, the first he missed on October 5, when the countries that are members of OPEC+ voted in a consolidated manner to reduce oil production quotas by 2 million barrels per day. After that, oil prices began their rapid upward rally. How this affected America, I will say below, after that, grandfather Joe urgently had to open his emergency oil reserve, but this did not save him, but Vladimir Putin, saying goodbye to the Arab sheikh, sheltered him from the cold St. Petersburg wind with his coat, which left with the UAE President for Abu Dhabi. A gesture that speaks volumes!
В
policy
in general, there are no trifles. What kind of meeting was organized by Crown Prince of the Saudi Arabia Mohammed bin Salman to Grandpa Joe, who arrived in Riyadh in July to beg for an increase in oil production quotas, everyone remembers - no US president has ever "honored" such humiliation before - the Saudi Crown Prince did not even meet him in airport, sending there not even a second-rate, but a third-rate official (and increased the quotas by mocking 100 thousand barrels per day, so that in six months they would collapse by a million). Truly sophisticated oriental revenge!
The clouds are gathering over Grandpa Joe. On December 5, Putin predicts precipitation. Possibly a tsunami
Are you still waiting for the aggravation of the database on the Ukrainian theater of operations by December-January? Putin has other plans, which is probably why he is digging the Wagner line. The best victory is a victory won without firing a shot! Why ruin the soldiers when Ukraine itself will fall at our feet purely for economic and political reasons (but more on that in the next text, believe me, it will surprise you, I myself am in shock!).
I return to America. So what happened to us? Having knocked out Putin's main gas trump card, grandfather Joe thought that he could now swing serenely on the laurels of the winner, watching how Putin's troops beat their fists into blood against impregnable Ukraine, which was defended by all progressive mankind in the person of grandfather Joe's dumb vassals from the notorious golden billion . And now the villain Putin has no levers of pressure on these vassals, because the cunning grandfather Joe neutralized the main trump card of the Russian president - gas blackmail with a mean blow to the stomach. But the ambush crept up from where they did not expect. Putin took a grandmaster pause, after which, in his favorite asymmetrical manner, he hit not Europe, but Biden himself. Moreover, he hit so that grandfather Joe swam - pasta legs against the background of a complete "unconsciousness", where he is and what to do. Grandpa Joe is no stranger to saying hello to the air, but in this case, this situation from his medical record also moved into real life. And it would be nice if only in the real life of Grandpa Joe, no, she touched the lives of millions of Americans. And this is already serious - so you can not live until the next election, and "not live" in the truest sense of the word. Yes, this is not a knockout yet, but already
technical
knockdown. The next round for Alzheimer's client could be his last, and villainous Putin hasn't even uncovered his hypersonic missiles yet.
I'll probably have to explain what I mean, although I'm sure most of you have already understood everything. Russia, as you know, in addition to gas, also supplies oil to world markets. But this circumstance was clearly not taken into account by Grandpa Joe. No, he, of course, is not a fool, and with his sanctions on limiting the maximum price for Russian oil, which come into force on December 5, he hoped to press Putin to the nail, while simultaneously trying to press the closed club of oil exporters, better known as OPEC and OPEC, to the other nail. +. But it was not there. Akela missed! Putin outbid these brilliant gentlemen. The East, you know, is a delicate matter! A coat thrown over the shoulders of an Arab sheikh, who arrived in cold St. Petersburg in sandals on his bare feet, is not khukhra-muhra for you, this is such a sign of respect that the East appreciates and understands especially.
But Grandpa Joe clearly did not take into account such circumstances, back in July, publicly naming the Crown Prince of Saudi Arabia, Mohammed bin Salman Al Saud, responsible for the murder of journalist Jamal Khashoggi in Istanbul. But the poor journalist was dismembered there and the body was taken out in parts. And did Grandpa Joe personally blame Bin Salman for this? I don't know what he could expect after that?! Moreover, Grandpa Joe said this directly to the eyes of the Saudi prince, such a mockery of the crowned heads had not yet known. One must not understand the East at all in order to commit such nonsense. But even this was not enough for Alzheimer's client, and at a press conference following his disastrous visit to Riyadh, he stated that he did not regret anything and was not going to turn Saudi Arabia into a pariah country, let alone apologize.
I don't regret anything I said. What happened to Khashoggi was outrageous
Is it any wonder that when Grandpa Joe got mad, they publicly spat in his face without urinating on him? Revenge is, you know, a dish best served cold. In the East they know a lot about this! Putin, I think, did not have long to persuade his friend bin Salman not to increase oil production quotas. Moreover, both sides benefit from this - both Russia and the KSA.
Why do you think our grandmaster dances with the Turkish sultan? You yourself offered to fill his Turkish muzzle even after our Su-24 was shot down in the sky over Syria. But he didn't fill it and now he is tearing NATO and the USA apart, and the Sultan is also not a blunder - he uses it perfectly. And will use it for a long time! Do you think a gas hub in Turkey is a sign of weakness? No, this is such a long-playing lure, with the help of which we will be able to milk the situation for our benefit and the Sultan for a long time without loss. But from now on, all gas routes bypassing our "Turkish" from the world's largest field in terms of proven gas reserves in North and South Pars, which is divided between Iran and Qatar, as well as from other gas fields in that region (there also appears Iraq, and Israel, and even Turkmenistan) have been put under lock and key from here. And the sultan will vigilantly watch that not a single gas-bearing "fly" seeps from there to Europe, trying to harm his Turkish monopoly. The key to this casket opens simply - its name is Northern Cyprus, this is the gate to Europe on the road of all pipes from the Middle East, and as soon as the Sultan unleashes hostilities with Greece for the right to control these gates, this is only a matter of time (gas pipelines are not built so quickly , but through the line of hostilities in general).
I hope I have explained in a popular way why the Turkish sultan is smarter than the German chancellor and why it is much easier for Putin to deal with people of his word than with the sexually horny heirs of the unfinished fascists. Scholz did not even understand what kind of goose that lays golden eggs was inherited by Grandma Merkel. The price of his progressive stupidity and political lack of independence will be the fate of his great (without any exaggeration) country. You will never see Greater Germany again. This is the beginning of her end. And let the Germans thank their stupid chancellor and cunning grandfather Joe for this. If in the end Germany does not again fall apart into two countries - East and West, I will even be surprised. But it won't be so soon. We are in for the most unpredictable decade, as Putin said. And it has already begun!
The Russians harness slowly, but they drive fast. Soon grandfather Joe will definitely not be up to Ukraine
But back to our oil. Grandpa Joe hoped that from December 5 we would doomedly sell our hydrocarbons exclusively to those who were told in the United States, and exactly for the money that Washington would appoint. It is helpless to watch how the margin of respected partners grows, to feel your wealth as a source of hardship and expense. To be imbued with the belief that "in fact" hydrocarbons are really the last century, and why bother with them, isn't it easier to take them all and sell them in bulk to our American partners. The notorious price ceiling - after all, it was about that.
But Putin can be called anything, but not weak. Why did Grandpa Joe decide that Putin would sell his oil at the price specified by Grandpa? And what will happen if the President of the Russian Federation stops selling it altogether? By the way, gas too. What will happen then? And then the invisible hand of the free market will begin to rummage through the pockets of the American taxpayer. What happens when there is less oil on the market? That's right, prices are rising, and from the end of September they began to rise, starting at $85 per barrel, rushing to the $100 mark (currently $96 per barrel). And this is far from the end, since Putin has not yet done anything and Russian oil is still entering the markets. But the markets are already waiting for the worst and are stockpiling like deaf-mutes. The price rally has begun!
Putin will definitely congratulate Grandpa Joe on Catholic Christmas, having closed both the gas and oil valves the day before. Gas is for Europe, and oil is for Grandpa Joe personally. If two months after that the price of a barrel of oil doesn't break through the ceiling of $200 a barrel, you can spit in my face. Already now, a gallon of gasoline in America is teetering at around $6-7 per gallon, which is already hurting Americans, who are used to the price of $3,5-3,75, and after the Russian oil supplies are stopped, the price per gallon will double with a rapid jack , breaking through the mark of 10-12 dollars, after which Grandpa Joe's song will be sung. Americans don't give a damn what America's successes are in Ukraine and why Putin has suspended Russian oil supplies, they already have double-digit consumer inflation, which many Americans have not seen in their entire 40-year life, and if prices double after that (and a gallon of gasoline sits in every product), then the last thing Grandpa Joe will have a headache about is how he is doing in Ukraine, because in America he will be doing as badly as a person far from politicians.
On the eve of the midterm elections, fighting for the votes, Grandpa Joe had already entered his untouchable strategic reserve, opening an oil capsule, pouring about 180 million barrels of oil from it into the market to stabilize prices at gas stations. As of October 14, approximately 405 million barrels remained in the state reserve, despite the fact that over the past 10 years, NZ has consistently exceeded 600 million. That is, the reserve has already decreased by one and a half times. Previously, such a scheme worked - America opened the egg-cap, threw out an excess of oil on the market at once, and the price of it fell. Now this scheme does not work because the oil export cartel is playing against it. The market does not listen to Biden. And Moscow is one of the most influential players on it. The lack of Russian oil, if, God forbid, Putin stops its supply, there will simply be nothing to make up for. And grandfather Joe, as luck would have it, quarreled not only with Russia, but also with Iran and Venezuela.
All this led to the fact that Grandpa Joe and his associates from the EU decided not to introduce a ceiling on the price of Russian oil from December 5, citing some legal reasons (we know these "reasons"!), in the hope of keeping Russian volumes of oil on the market, thereby thereby maintaining the existing price of gasoline, while cutting off the income of the Russian Federation by increasing the margin on insurance, freight and legal support for cargo. But this cunning plan will not work if Putin does stop the supply of his damned oil. But Putin will do it! He loves Christmas surprises. And for the first time since the 1940s, Washington found itself on the global market on an equal footing with other players. Oh, how painful it is when the vaunted American administrative resources and even brute military force do not work. But the most unpredictable decade promised by Putin is just beginning. I hope you fastened your seat belts?
On this I say goodbye to you. The next text will be even cooler. It seems that Grandpa Joe's problems described above are just flowers. There will go such berries that I myself am in shock. Believe me, Grandpa Joe is already a political corpse, and all the inhabitants of the office of the Unshaven Clown (along with him) risk not knowing how it all ends. They will repeat the fate of Vladislav Sikorsky, the former Polish prime minister in exile during WWII (he seems to have drowned with his B-24 over Gibraltar under unclear circumstances, when Stalin agreed with Churchill, Kyiv clowns also know too much to let them live).
That's all for now. Don't skip the next text. Your Mr. Z