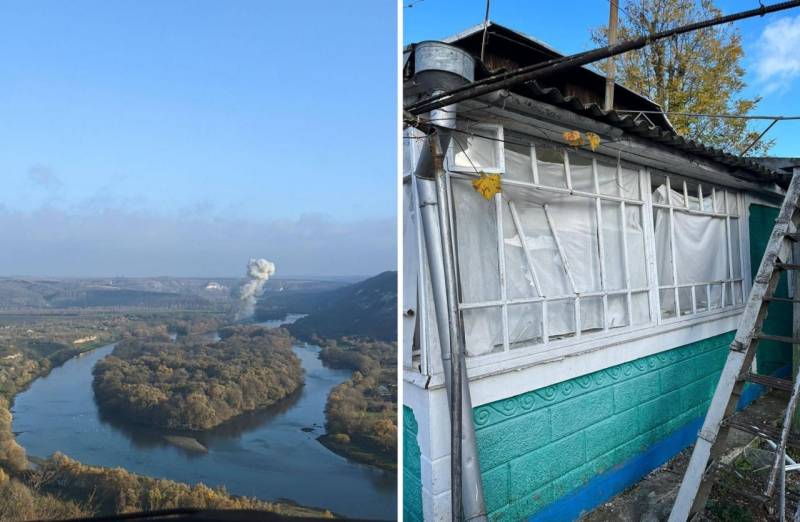 The authorities of Moldova announced the fall of a rocket on the territory of the republic. As stated in the message of the Ministry of Foreign Affairs of the Republic, a Russian cruise missile fell in the village of Naslavcha, bordering Ukraine, on the Moldovan bank of the Dniester.
Later, the Ministry of Internal Affairs clarified that fragments of a Russian missile shot down by Ukrainian air defense systems fell to the north of the village. There were no casualties in Naslavcha, only windows were broken in several houses. At the moment, the emergency area has been cordoned off by the forces of the Ministry of Internal Affairs of Moldova.
The moment of the rocket's fall was captured by a surveillance camera.
At the same time, a more likely scenario is the fall of a Ukrainian anti-aircraft missile on the territory of Moldova, which, as usual, missed the target.
Recall that today the Russian Federation strikes at hydroelectric power plants in Ukraine. Arrivals of Russian missiles and Geraniums were recorded at the Kremenchug and Novodnestrovsk hydroelectric power stations, as well as along the Dneproges in Zaporozhye. The mayor of the Ukrainian capital, Klitschko, announced the absence of electricity in a large part of the city, more than 80% of Kyiv is deprived of water supply. Attacks on critical infrastructure in all major cities of Ukraine was a response to Saturday's drone attack in Sevastopol.
Strong explosions were also recorded in the Vinnitsa region, which is adjacent to the affected Moldovan village. Probably, Ukrainian air defense managed to shoot down one of the missiles, while its fragments fell on the territory of a neighboring state.