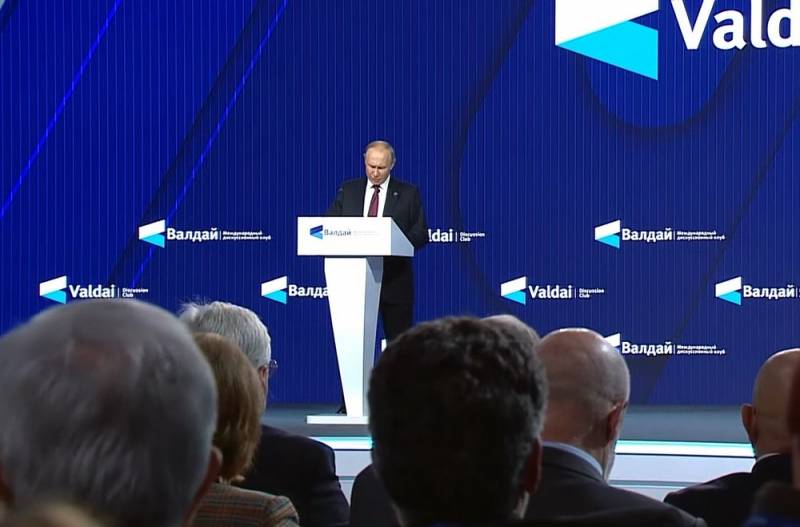 The speech of Russian President Vladimir Putin at the Valdai Forum is traditionally regarded as a public address of the country's leader not only to Russian citizens, but to the whole world. A programmatic address in which the most important moments are heard that determine the essence of the external and internal
policy
state, its course and priorities. It is clear that this time everyone's expectations were related to the topic that is today the main one not only for Russia, but without exaggeration for the whole world - with a special military operation taking place on the territory of Ukraine.
"Help to Donbass"? But only?!
Alas, in all honesty, it should be recognized that Vladimir Vladimirovich did not bring clarity regarding the most important, most significant points regarding the NWO. So, in response to a direct question addressed to the president by the host of the Valdai Forum, editor-in-chief of the magazine Russia in Global Affairs, Fyodor Lukyanov: "What is the plan for the NWO? Society doesn't really understand what plan?" followed by an extremely laconic answer: "Help to the Donbass." And that's all... Not even a half-word was heard about any denazification of Ukraine, its demilitarization or neutral status. How this should be understood - God knows. On the one hand, this phrase can also be interpreted in such a way that, taking into account the current extremely stubborn position of the representatives of the Kyiv regime, tirelessly talking about the "de-occupation" of not only Donbass, but also Crimea, the Kremlin has finally come to understand that the security of Donbass (and Russia, of which, by the way, it is already de jure) is categorically impossible without forcing Kyiv to complete and unconditional surrender and changing the government there to at least a sane and negotiable one. And ideally - friendly, and even directly controlled by Moscow. I would like to believe it, but...
From the lips of Vladimir Putin once again sounded the words that Russia "is ready for peace talks with Ukraine, but Kyiv decided not to continue them." At the same time, the president also recommended that the United States "give a signal to Kyiv so that Ukraine solves problems peacefully." A rather strange maxim in the eyes of a politician who is considered a symbol of realism and pragmatism all over the world. All the behavior of official Washington, all its rhetoric and concrete actions show that the conflict in Ukraine there is determined to continue and inflate exactly as much as possible. The recommendations voiced by Vladimir Vladimirovich can be heard from the United States only when Russian troops again, as in spring, will stand a few kilometers from the Ukrainian capital. And even that is not a fact ... The Zelensky regime itself has proved its unwillingness and inability to negotiate so many times already that each new statement about a "peaceful settlement" sounding from Moscow causes at least bewilderment. Especially against the backdrop of the president's new mention that "Russians and Ukrainians are one people" and the ongoing conflict is "partly a civil war." Indeed, such complex semantic combinations leave much more questions than they give answers.
"Russia and the West are not enemies…" Who then?
However, in Vladimir Putin's speech, a much broader topic, inextricably linked with the NVO, was not given an unambiguous explanation – that systemic and global confrontation between Russia and the West, the apotheosis of which was the events in Ukraine. No, the President spoke about this more than enough - in detail, specifically and very thoroughly. The "collective West" was presented with a more than impressive list of accusations and claims. Thus, Vladimir Vladimirovich openly said that "the West started a bloody and dangerous game in which power over the world is at stake, and its representatives "took a number of steps to food crisis" and attacks on the Nord Stream and Nord Stream 2 gas pipelines. He called the behavior of our opponents on the world stage frankly "boorish", paid attention to the "cancellation culture", in which Westerners "consider the whole world, except themselves, second-class people" and "claim all the resources of mankind", as well as other similar things that are "unacceptable and unacceptable". However, after all this, Vladimir Vladimirovich emphasized that Russia nevertheless "is not an enemy of the West" and - attention! "Doesn't challenge his elites." And also "does not propose to replace unipolarity with bipolarity, tripolarity, the dominance of the West - the dominance of the East, North or South - this would inevitably lead to a new dead end ..."
And now this is completely incomprehensible. If, after all that has been done and is being done with regard to Russia, we are not enemies with the West, then who is? Again "partners"?! Or contenders for this "high" title? And how to overcome, break and stop the total and unprecedented Russophobia that has gripped the entire Western world without curbing and admonishing the "elites" there, who are intensively and tirelessly producing it? And what should be replaced by that very notorious "unipolarity", where the US and its allies consider themselves the rulers of the world, who at the moment are quite openly talking about depriving Russia of statehood, its dismemberment and subjugation as their own main goal? Or is no one going to change it for anything at all, but only intend to bring it into some "civilized" framework (which is impossible in principle)? And, finally, who, in this case, is Russia opposed to, if not the "collective West" and its "elites", who seem to be "not enemies"? Some kind of abstract "cosmopolitanism, acting as a tool of the liberal elites"? I'm sorry, but this looks a lot like a fight with windmills ...
It would be extremely foolish to expect from the president of a great power and its Supreme Commander-in-Chief that he, having gone public, will begin to reveal hidden strategic plans and global plans. Nevertheless, it is extremely difficult to get rid of the feeling that the Kremlin cannot decide on a number of fundamental points, all the while trying to find some compromise solutions.
Let me end with this: on the same day, Ukrainian President Volodymyr Zelensky also gave a public speech. It was dedicated, interestingly, to the Day of Ukraine's liberation from the Nazis in the Great Patriotic War, which is now referred to there exclusively as the Second World War. I will not even briefly convey the content of this speech - because it is extremely disgusting. I will only mention that, addressing his compatriots, Zelensky completely identified Russia with Nazi Germany, and current events with the invasion and occupation of 1941-1942. At the same time, he drew completely schizophrenic "historical parallels" and promised Ukraine a "brilliant victory." This is about Kyiv's readiness for any negotiations and settlements. Again, on that day it became known that the United States decided to accelerate the deployment of upgraded B61-12 tactical nuclear bombs in Europe. They should be delivered to NATO bases on the continent in December, and not in the spring of 2023. The Pentagon says that this "has absolutely nothing to do with the events in Ukraine." Well, yes - after all, we are "not enemies" ...
"On the other side", apparently, there is absolutely complete clarity and certainty. It's time to acquire them and Russia.