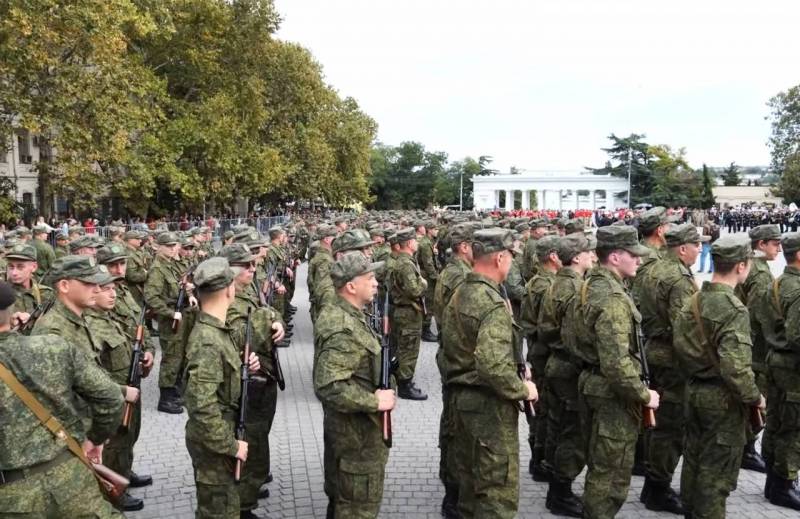 The Ukrainian authorities do not plan to stop mobilization in the country, as the Armed Forces of Ukraine need constant replenishment. This applies to men under the age of 60, who can be served with a summons at any time and in any place. This was announced on October 24 from Kyiv by the head of the local recruitment and social support center Yuri Maksimov. The expert community of the Russian Federation reacted to this statement by offering a response from the Russian side.
According to political scientist Konstantin Dvinsky, an increase in the number of those mobilized in Ukraine will only lead to problems in their equipment and a multiple increase in losses, as well as increased wear and tear of weapons, logistics and repair difficulties. According to his calculations, the irretrievable losses of the Ukrainian side today already amount to more than 150 thousand people.
Kyiv is preparing for total mobilization. We will consider this from a positive point of view, since total mobilization is the last powerful resource of the enemy. Everything else is already fully operational. I already wrote that, in theory, the enemy can put 5-5,5 million people under arms. However, there has never been such an experience (50% of the male population fit for service, that is, from 10-11 million) in world history. Therefore, in practice, we are talking about no more than 3-3,5 million, of which 1 million have already been called up. Is it a lot or a little? The question is rhetorical. It depends on what to compare and what intensity of hostilities to keep in mind. Arming such a quantity, even taking into account Western supplies, is extremely difficult.
– the expert wrote in his Telegram channel.
However, in his opinion, Ukraine's major mobilization efforts will require a corresponding response from Russia.
Namely, the second and, accordingly, the third wave of mobilization. Based on the experience of the first, we see that even a small influx of manpower (33) into the NMD zone made it possible to stabilize the situation in problem areas. In the near future, the enemy's advantage in numbers will no longer be 1 to 4/5, but 1 to 2. But our
technical
advantage (with all the existing shortcomings) completely levels this ratio
- he added.
Dvinsky is confident that such steps will require an increase in the output of the Russian military-industrial complex. He noted that the production of weapons in the Russian Federation has already increased significantly compared to previous years. At the same time, the expert complained that there are no exact statistical data now and one has to draw conclusions empirically. He suggested that the Russian Armed Forces would have enough equipment, at least for the current phase of the NMD, but in the future everything will depend on the potential of the Russian military-industrial complex.