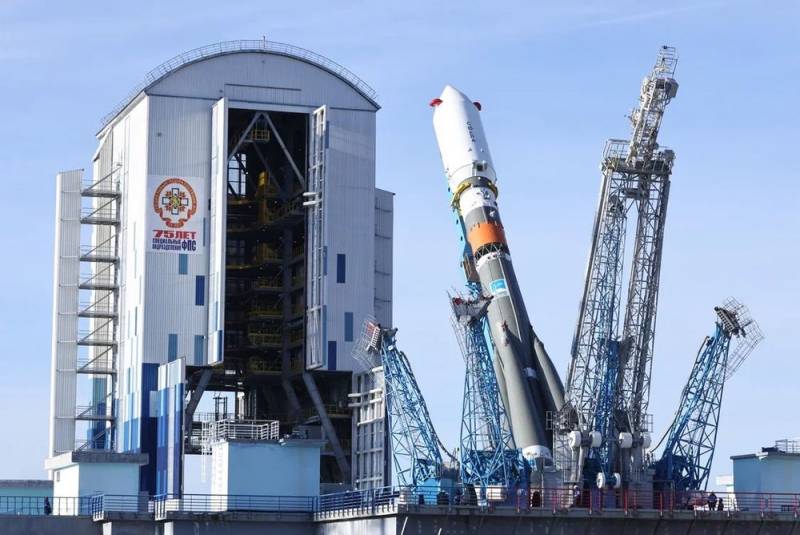 The project of the Russian global multifunctional infocommunication satellite system "Sphere" originally provided for the appearance of 638 spacecraft for various purposes in near-Earth orbit by 2030. Assembly and testing of the first spacecraft "Skif-D" for the implementation of the project began in August 2022.
On October 19, the state corporation Roscosmos informed the public that the Soyuz-2.1b carrier rocket with three Gonets-M satellites and the first spacecraft of the Sfera federal project, Skif-D, was delivered to the launch complex of site 1C of the cosmodrome Oriental.
After installing the launch vehicle in a vertical position, the specialists began preparing it for launch, which should be carried out on October 22, weather permitting, at 22:57 Moscow time by the Fregat upper stage. Thus, Russia is starting to build analogues of the American and British satellite Internet Starlink and OneWeb, respectively.
It is noted that this will also be the first launch of all stages of the launch vehicle on a new fuel - naphthyl. This fuel has less harmful emissions and allows you to output a large load.
One of the main reasons for switching from kerosene to naphthyl was the depletion of the Anastasievsko-Troitskoye field in the Krasnodar Territory
- specified in the communiqué of Roskosmos.
In turn, the Skif-D demonstration satellite is needed to test new technical solutions for high-speed (broadband) Internet access and protect the orbital-frequency resource. The Sphere project will include 5 satellite constellations of communications ("Yamal", "Express-RV", "Express", "Skif" and "Marathon") and 5 satellite constellations of remote sensing of the Earth ("Berkut-X", "Berkut- O", "Berkut-VD", "Berkut-S" and "Smotr").
The implementation of the Sphere project will also make it possible to organize a mass movement of drones in Russia both in the airspace and on the ground, and possibly also on water (seas, rivers and lakes). The schedule for the next satellite launches for the Sphere project is approximately as follows: 2023 - Marathon spacecraft; 2024 - 2 spacecraft "Skif"; 2025 - an unknown number of Berkut and 4 Express-RV satellites (the operator of communications and broadcasting satellites will be determined at the same time); 2027 - 6 spacecraft "Skif"; 2028 - 4 spacecraft "Skif". For the period from 2022 to 2024, 7 billion rubles are provided for these purposes annually, and from 2025, 10 billion rubles each.