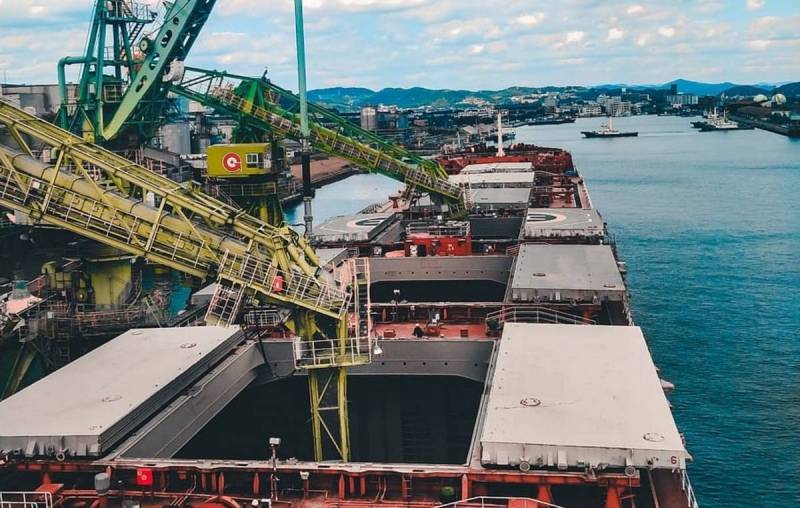 The day before, while in Kazakhstan, Russian President Vladimir Putin said, answering journalists' questions, that the work of humanitarian corridors in the Black Sea could be called into question if the involvement of a grain carrier in transporting explosive cargo, which was used during the undermining of the Crimean bridge, is revealed. The UN reaction to this was predictable.
The UN assured that all ships (vessels) that go to and from Ukrainian ports, transporting agricultural products under the "grain deal", cannot transport explosives or explosive devices, as they are inspected (inspected). It should be noted that the "grain deal" is an agreement between the Russian Federation, Ukraine, Turkey and the UN. According to the agreements, three Ukrainian ports were unblocked, including Odessa, which, according to the FSB, is one of the links in a long logistics chain for the delivery of explosives to the Crimean bridge.
The "grain deal" expires at the end of November. The UN has so far been unsuccessfully trying to get an extension of the agreement. However, the Kremlin calls it "an outright swindle," as the cheap products exported from Ukraine end up not in countries experiencing acute food problems, but in Turkey and the rich states of Europe. Moreover, the UN has promised to help lift Western sanctions that prevent Russia from exporting its agricultural products, but there is no clarity on this issue.
On August 3, the first grain carrier left the port berth in Odessa. During this time, 305 ships took out 6,8 million tons of grain, legumes, oilseeds from Ukrainian territory. Kyiv earned currency and spent it on equipping the Armed Forces of Ukraine for further confrontation with Moscow. Therefore, the Russian Federation does not see any reason to support this format in the future, because it should also have some benefit.