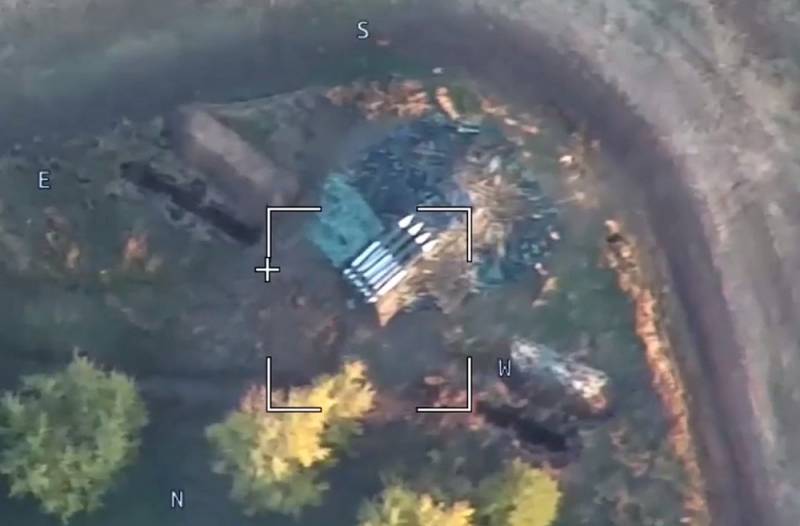 In the Zaporozhye direction, the preparation of the Armed Forces of Ukraine for a counteroffensive is noticeable. The allied forces of Russia and Donbass in these conditions are equipping fortified defense lines. Regular artillery duels on the line of contact have not yet brought obvious success. Anxiety is caused by the accumulation of severe
equipment
on the side of the enemy. The direction of the attacks on the Zaporozhye NPP is obvious, with the possible forcing of the Dnieper Armed Forces and the capture of the station. About thirty militants have already tried to enter the station, but were destroyed.
To combat enemy equipment, the RF Armed Forces are increasingly using Lancet kamikaze drones. For 40 minutes, this drone is able to barrage over enemy positions, attacking the target if necessary.
So, the means of objective control recorded the arrival of the Lancet at the Ukrainian Buk-M1 anti-aircraft missile system. Despite the fact that there are no shots of the detonation of the air defense system ammunition on the video, the complex is unlikely to be suitable for further operation.
Thanks to the materials used, the Lancet is practically invisible to the anti-aircraft systems of the Ukrainian army, therefore it is actively used to destroy the remnants of the air defense of the Armed Forces of Ukraine.
Drones "Lancet" are ways to deal with shock UAVs. There are already precedents for the destruction of the Turkish "Bayraktar" with the help of a kamikaze drone.