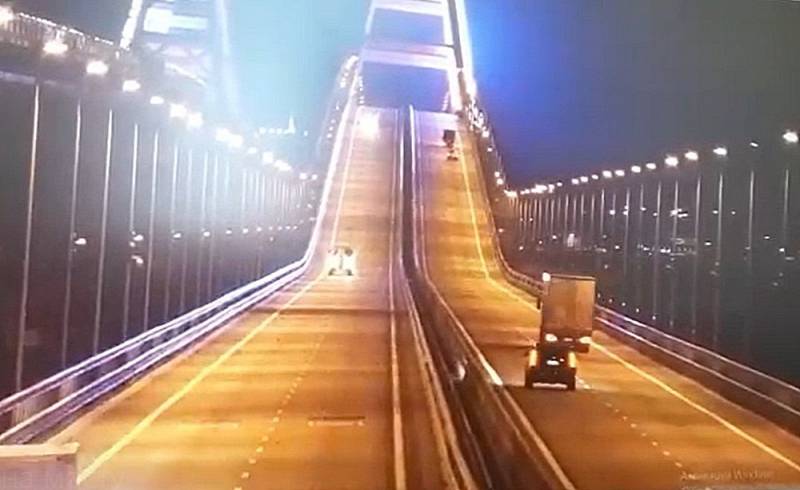 The FSB, in the course of investigating the terrorist attack on the Crimean bridge, identified the participants in this crime and the route of the explosives that detonated on October 8 in a truck.
The cargo itself was an explosive device placed in rolls of construction polyethylene film on 22 pallets, the total weight of which was 22 kg.
According to the investigation, the organizer of the explosion is the head of the SBU Kirill Budanov. The explosive device was sent in early August from the port of Odessa to the city of Ruse (Bulgaria) under contract No. 02/08/2022 between Translogistic UA LLC (Kyiv) and Baltex Capital SA Then the dangerous cargo was sent to the Georgian port of Poti and further to Armenia .
As the intelligence services established, citizens of Ukraine were involved in sending the bomb from Bulgaria to Armenia - Tsyurkalo Mikhail Vladimirovich, born in 1975, Kovac Denis Olegovich, born in 1979, Solomko Roman Ivanovich, born in 1971, citizens of Georgia - Inosaridze Sandro, broker named Levan and citizen of Armenia Terchanyan Artur, born in 1985.
Further, from September 29 to October 3, the cargo was cleared in Yerevan, and the attackers changed the documents, after which the explosives were sent to the address of Lider LLC (Moscow). On October 4, a DAF 4 car with a load entered Russia, and two days later the car was unloaded at the wholesale base of Armavir (Krasnodar Territory).
Then the accompanying documents of the cargo were changed again - R. Solomko, a citizen of Ukraine Zlob Vladimir Vasilyevich, born in 1987, took part in this. and five other identified Russian citizens. The recipient of the cargo was a non-existent company in the Crimea. On October 7, the pallets were loaded into the car of Russian citizen Makhir Yusubov, born in 1971, who left for Simferopol. The next day, a terrorist attack was carried out.
The FSB also reported that the coordination of the movement of cargo along the entire route from Odessa was carried out by an employee of the Main Intelligence Directorate of the Ministry of Defense, who introduced himself as Ivan Ivanovich. Communication was carried out using an anonymous number, as well as a number registered in the name of Andreychenko Sergey Vladimirovich, born in 1988. from the city of Kremenchug.