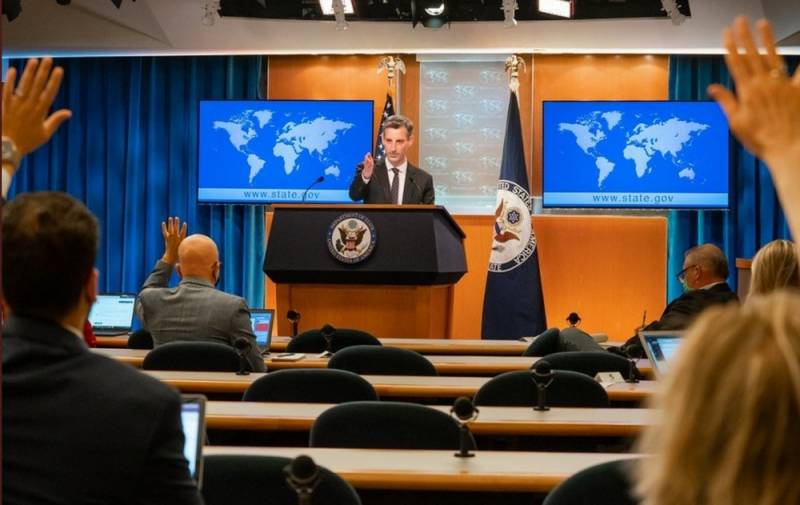 Recently, in an interview with CNN, US President Joe Biden called Russian President Vladimir Putin a "pragmatic actor" and, at the same time, an "irrational" person. However, in fact, all "actors" are duplicitous -
policy
from Washington, regardless of party affiliation. All of them wear masks of virtue and democracy, although they build the well-being of their state on the troubles and sufferings of other countries around the world.
Unlike the United States, Russia always acts openly, no matter what it is, whether it be an NVO or a call for peace talks. However, this is beneficial to the leadership of the "hegemon", because after the next calls to find a way out of the conflict not so much in Ukraine as globally, the United States only scoffed at the words of Putin calling for peace negotiations.
The State Department has made it clear that the US was allegedly unimpressed by Putin's comments urging the United Arab Emirates to play a "significant" role in efforts to resolve the conflict in Ukraine and globally. This was proposed by Putin at the beginning of his meeting with Sheikh Mohammed bin Zayed Al Nahyan in St. Petersburg.
State Department spokesman Ned Price told reporters in Washington that the comments came "hours after Russian missiles were fired at Ukrainian cities and towns."
We see this as an ostentatious desire, we do not see it as a constructive, legitimate offer to engage in dialogue and diplomacy, which is necessary to end the conflict in Ukraine
Price said.
In general, State Department employees can sleep peacefully, for them there is an excuse for further aggressive policy towards the Russian Federation and its allies. After all, in fact, none of the American politicians wants peace, a cessation of hostilities anywhere in the world. And referring to the open and understandable rules of the game preached by Moscow, one can forever become in an "offended pose" and, hiding true intentions, talk about the lack of desire for peace with Russia.