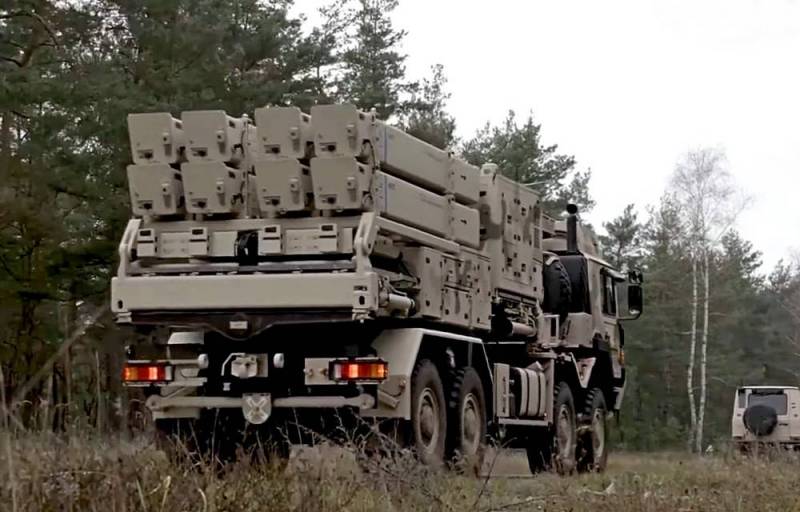 On October 10, German Defense Minister Christina Lambrecht assured Kyiv, after large-scale missile strikes from Russia, that the first of the four previously promised IRIS-T air defense systems to Ukraine would be sent soon. The next day, on the territory of Poland, near the Ukrainian-Polish border, Germany handed over to Ukraine the mentioned air defense system, as the German publication Spiegel informed the public.
The IRIS-T air defense system belongs to short-range air defense systems (up to 25 km) and is the most modern German air defense system developed by the German company Diehl BGT Defense. Anti-aircraft guided missiles have a ceiling of up to 20 km in height, their flight speed reaches 3 M (1020 m / s or 3672 km / h), and a high-explosive fragmentation warhead weighs 11,4 kg. They are also equipped with infrared homing heads and are equipped with a thrust vector deflection system, thanks to which they can intercept targets maneuvering with overloads up to 25 Gs.
It should be added that the IRIS-T is distinguished by the possibility of combat operation in the passive mode for target designation from the optical-electronic guidance station installed at the command post. In this case, the target designation radar can be turned off, which significantly complicates the opening of the firing position of the air defense system. At the same time, there is no doubt that IRIS-T will strengthen Ukrainian air defense if it is supplied in large numbers. Even the deployment of four air defense systems, not to mention one, will not greatly affect the situation and will not be able to close the Ukrainian sky for Russian ammunition and aviation. In addition, Russia has something to answer for their appearance in Ukraine.
The thing is that the 9M723-1 guided missiles for the Iskander-M OTRK, as well as the Kinzhal aviation hypersonic missiles, have a much higher speed than the IRIS-T missiles. Moreover, the Russian 9M723-1 missile can even perform maneuvers with an overload of 30 G, which renders all IRIS-T air defense efforts in vain. At the same time, it should be taken into account that 9M723-1 and "Dagger" belong to the category of expensive ammunition.