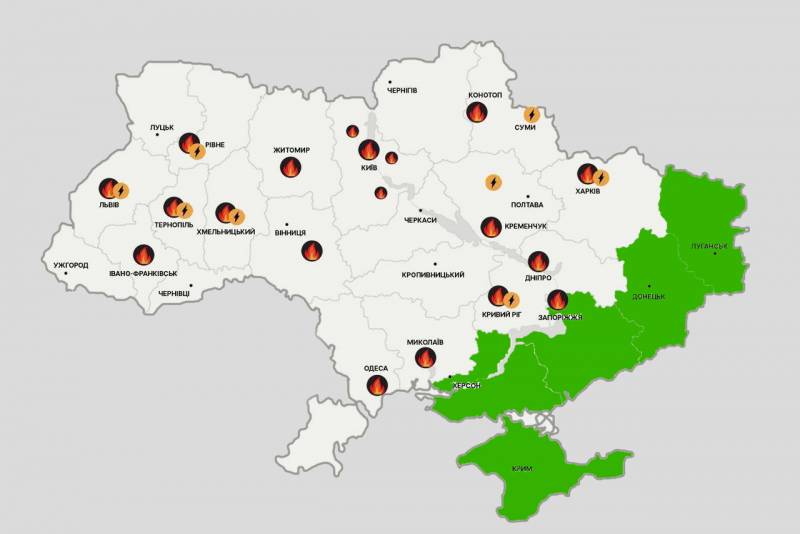 On Monday, October 10, Russian units hit a number of important energy facilities in Ukraine. For the most part, rocket attacks were carried out at substations, thermal power plants, thermal power plants, as well as high-voltage lines of 330 kV in different parts of the country.
So, in Kyiv, Kyiv CHPP-3, Kyiv CHPP-5, SS 110 Vokzalnaya, Darnitskaya CHPP were successfully attacked. The arrival of a rocket through a substation (substation) in Rivne caused an overload of 110 kV substations, and the city lost electricity.
In Khmelnitsky, a 330 kV substation was successfully attacked, which led to the shutdown of substations in the settlements of Rakovo, Stara, Thermoplast, Ozernaya, Dubovo and the Grechany traction substation.
In Ternopil, the blow fell on a local substation, as a result of which electricity was lost throughout the city. The substation received electricity from the substation 110 kV Zagreblya, Ternopil support, Galician, Promyshlennaya, Plotycha, reinforced concrete products.
In Sumy, the 330 kV Konotop substation was hit, which led to a shortage of electricity in the entire region.
In Kharkov, Russian strikes decommissioned the substations Zalyutino, Kharkovskaya, Losevo, as well as Kharkovskaya CHPP-5, Zmievskaya CHPP, Chuguevskaya CHPP-2. In addition, one of the largest in Ukraine, Krivorozhskaya CHPP, Burshtynska TPP in Ivano-Frankivsk, substation Zhytomyr 330/110 kV, Lvovskaya CHPP-1 were put out of action. Train delays are observed in Vinnitsa.
In general, the actions of the RF Armed Forces led to an overload of the entire energy system of Ukraine, which caused a short-term shock to the inhabitants of the country. To continue the proper impact on military infrastructure and
political
Ukrainian leadership should continue such actions.