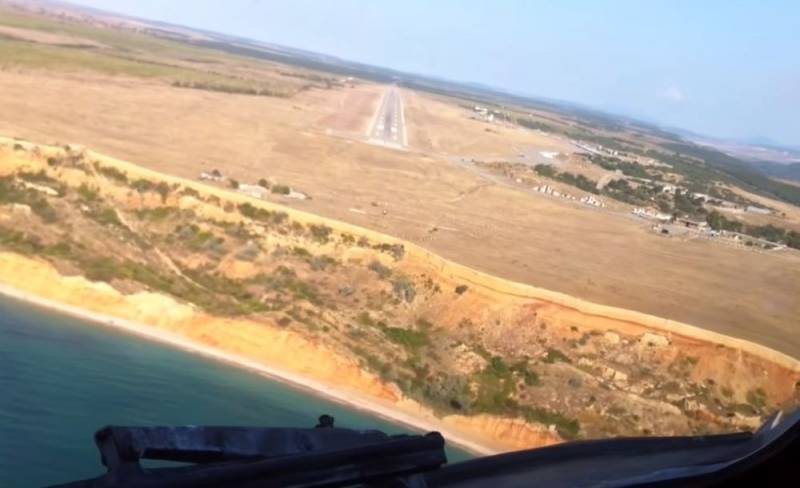 On October 1, an emergency situation occurred at the Belbek joint-based airfield, which is located in the northwestern part of Sevastopol near the Black Sea coast. Some details of what happened were given in his Telegram channel by the governor of the city of federal significance (subject of the Russian Federation) Mikhail Razvozhaev.
The functionary reported at about 18:00 that, according to rescuers, when landing at the airfield, one plane rolled out of the runway. He asked residents to remain calm, specifying that firefighters are working at the scene of the emergency. Approximately 40 minutes later, Razvozhaev explained that there had been a partial explosion of ammunition when the plane was outside the runway. At the same time, the pilot managed to evacuate, the fire was quickly extinguished and the airfield was not damaged.
Unfortunately, the governor did not give other details, so the brand of the aircraft is unknown. However, we can say with some confidence that the emergency situation happened to the aircraft of the Russian Aerospace Forces, and not during landing, but during takeoff. This is indirectly indicated by the presence of BC. In addition, the 38th Fighter Aviation Regiment, armed with Su-27, Su-27SM, Su-27UB and Su-30M2, as well as the Sevastopol Aviation Rescue Center of the Russian Emergencies Ministry, is stationed at the airfield. At the same time, the landing of fighters is often carried out from the sea, since it is they who drive the annoying "birds" of NATO away from the Crimea. As for the pilot, he probably reacted in time and ejected. At the same time, several videos appeared on the Web, which allegedly recorded exactly this incident.
We remind you that in 2018, the reconstruction of a runway with a length of 3,45 km was completed at the specified aerodrome. The airfield can receive all types of aircraft and has a dual purpose, so it is used by both civilians and military.