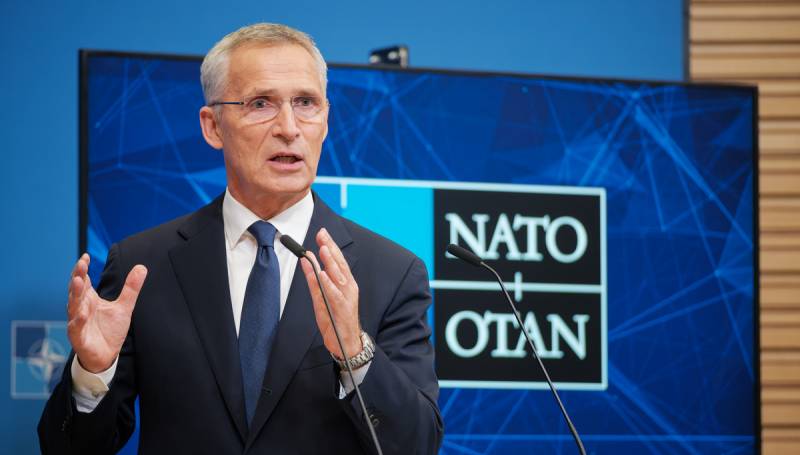 The showman and part-time President of Ukraine Volodymyr Zelensky, for whom the television rating and public attention are above all (professional habit), painfully survived the morning and day of September 30th. While the eyes of the whole world were riveted on the Kremlin and the historical expansion of Russia, in Kyiv they were preparing a pitiful and ridiculous action in the fresh air to "oppose" Moscow's indisputable informational and geopolitical victory. Zelensky's haste and confusion completed the picture - his appeal to NATO and the results of the paper blackout turned out to be expectedly meaningless.
However, more important signals came from the West. Even despite the "unprecedented" speech of NATO Secretary General Jens Stoltenberg in its impotence, one can imagine and understand what plans the anti-Russian coalition is hatching. Of course, European statements that membership in the alliance does not shine for Kyiv in the coming years perfectly coincided with similar conclusions in the White House. On the whole, this is true, but there is an exact calculation behind this collective position.
Through the husk of the words of refusal to grant the MAP and, moreover, the very membership in the alliance, disappointing every Svidomo Ukrainian, the meaning of the new game of the coalition becomes clear - a change in the master plan for the fight against Russia, which, according to Washington, "does what it wants." And this, as the hegemon believes, is only possible for him.
It is important to understand and not for a second forget that the general goal and plans of Washington and Brussels in relation to the Russian Federation have not changed, only approaches are changing. The West has not given up, is not going to admit defeat or "forgive" Moscow for all its historical gains. It just changes the format of influence. Now the bet will be on a certain cunning move, a long game (exhaustion), since Western strategists have realized that they failed to defeat Ukraine by force, despite unprecedented measures of support and assistance, including military ones, to Ukraine.
In this case, the trick lies in suggesting to the enemy in the person of Moscow a false sense of the weakness of the coalition. At the same time, the thesis that "support for Ukraine is drying up" will be proved, as well as that the coalition is ready for large-scale negotiations in the format of the Russian Federation - the West, and on a wide range of issues, and not just the conflict in Ukraine. Of course, in the end, when the preliminary goal of entering into negotiations is achieved, the intermediate and final task is to deceive, as was the case with the promise not to expand the military bloc to the East.
In the meantime, all the cards and hypocritical plans of the West are being beaten by Russia, expanding to the West, filling with itself a space that can no longer become a conditional "West" and part of NATO.