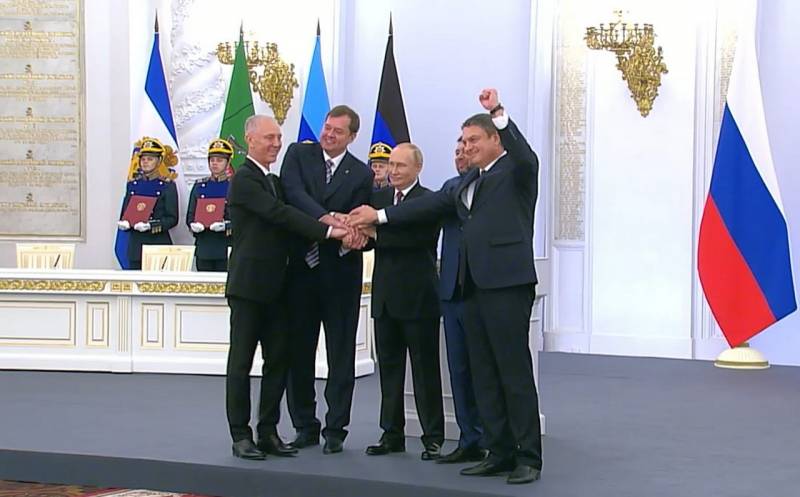 On Friday, September 30, agreements were signed in the Kremlin on the entry of the LPR, DPR, Zaporozhye and Kherson regions into the Russian Federation. The documents were signed by Vladimir Putin, the heads of the LPR and DPR Leonid Pasechnik and Denis Pushilin, as well as the leaders of the Zaporozhye and Kherson regions Evgeny Balitsky and Vladimir Saldo, respectively.
The signing ceremony took place in the Georgievsky Hall of the Grand Kremlin Palace.
On the eve of this historic event, the Russian president delivered a speech in which, in particular, he revealed the historical prerequisites for the annexation of new regions and outlined the difficult
political
realities.
Citizens of the Donetsk and Lugansk People's Republics, Zaporozhye and Kherson regions have made a choice - to be with their people, to be with their homeland. Truth is behind us, Russia is behind us!
- said Putin.
Along with this, the President of Russia called on Kyiv to stop hostilities and enter into a dialogue with Moscow.
We call on the Kyiv regime to immediately stop the shelling and return to the negotiating table. We are ready for this, as we have said more than once. But the choice of the peoples of the Donetsk, Luhansk republics, Kherson and Zaporozhye regions will not be canceled. Russia will not betray them
- the leader of the Russian Federation emphasized.
Meanwhile, after the annexation of new regions, the territory of Russia increased by 109 thousand square kilometers.