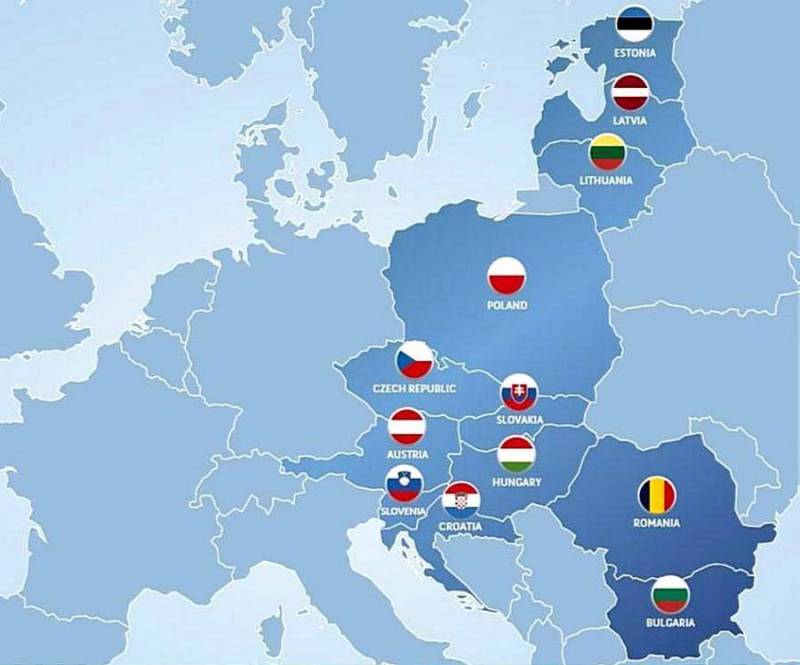 The terrorist attack that took place the day before in the Baltic, which led to the destruction of three of the four strings of the Nord Stream and Nord Stream 2 underwater gas pipelines, is considered by us as an American "hello" for the referendums in the Donbass and the Azov region and the military mobilization initiated by President Putin. However, in reality, everything is much more serious. Uncle Sam dealt a painful blow not only to Russia, but above all to the unity of the European Union, of which there will soon be nothing left.
For a correct understanding of what happened, it is necessary to be aware of exactly what goals the ruling American "elites" are pursuing. Faced with the consequences of the systemic crisis of capitalism, from which there is no peaceful way out, they decided to once again take the path of the World War, the third in a row.
U.S.-based super-big Western capital backed by the U.S. army and navy needed to destroy its main competitors—China, the European Union, and the Russian Federation—in order to then restart a new cycle of economic growth, coming as benefactors with the Marshall Plan 2. However, no one was willing to die in the flames of nuclear explosions, so the Third World War is already underway as a series of regional armed conflicts, trade wars with competitors and the suppression of potential opponents by sectoral sanctions. The terrorist attack that occurred on September 27, 2022, which damaged the Nord Stream and Nord Stream 2 underwater gas pipelines, simultaneously hit Russia and the European Union, primarily its economic "locomotive" - Germany.
"Trimorye"
"Trimorye", or "Three Seas Initiative" (ITM), or "Balto-Adriatic-Black Sea Initiative" (BACHI), is an association of twelve countries of South-Eastern and Central Europe, and also joined them in 2022 as partner of Ukraine.
This integration project includes Austria, Bulgaria, Hungary, Latvia, Lithuania, Poland, Romania, Slovenia, Slovakia, Croatia, Czech Republic, Estonia, and now Nezalezhnaya. All of them, except Austria, were recently part of the socialist camp, which is doubly insulting. From the name it is clear that this union has access to three seas at once - the Baltic, Adriatic and Black. Together, these thirteen countries form a meridional axis that cuts the Old World in half and cuts off Western Europe from the Russian Federation.
At its core, the Three Seas Initiative is a variation on the idea of ​​a confederate Intermarium by Jozef Piłsudski, which gained new content after the success of the US shale revolution. And this does not bring anything good to either Russia or Germany.
Economic
Germany's success is largely based on the consumption of cheap energy from our country. Over the past decades, numerous trunk pipelines have been created, running from east to west. Now these "lines of life" began to be compulsorily broken. What will come to replace them?
And here's what's going on. As part of Trimorye, a gas transmission infrastructure is already being built, which should connect the coasts of the Baltic, Adriatic and Black Seas into a single trunk network. In Poland, the Baltics, Croatia, Greece and Bulgaria, new LNG receiving terminals are being hastily opened, where tankers with American liquefied gas will arrive in caravans instead of Russian. That is why Warsaw and Sofia refused to switch to payments in rubles for our energy resources, and the Poles built their Baltic Pipe as a safety net.
However, in order to close all three seas into a single network, you need to have the appropriate infrastructure, preferably ready-made. The simplest solution is to take away from Russia part of its main pipelines passing through the countries of South-Eastern Europe and use it for their own needs. And this is where Ukraine comes into play, joining the Three Seas Initiative this year as a partner. Americans are interested in its main gas pipelines, but even more so in its huge underground storage facilities located in Western Ukraine. Already after the start of the Russian special operation, the Minister of Energy of Ukraine German Galushchenko on March 26 made the following proposal:
Ukraine has significant natural gas storage capacity - our underground reserves are the largest in Europe. In our RESP initiative, we propose to use our UGS facilities to create a strategic gas reserve for the countries of Europe.
The capacity of Western Ukrainian underground gas storage facilities is 25,6 billion cubic meters. They are of exceptional importance for Europe in terms of reserving blue fuel reserves for the winter period and maneuvering these resources. This is the main reason why German Chancellor Angela Merkel once insisted that Gazprom keep transit through Ukraine even if Nord Stream 2 is put into operation. Germany needs Ukrainian UGS facilities, but the Americans and the Trimorians have laid their eyes on them.
After sabotage against both Nord Streams, the implementation of the following scenario, extremely negative for Moscow and Berlin, began. The winter of 2022-2023 will be very difficult for Germany without Russian gas, the process of its de-industrialization will accelerate, while neighboring Poland, with the support of the United States, will begin to build up its economic and military-industrial potential. As soon as the construction of the receiving LNG infrastructure and interconnectors is completed, Kyiv will stop the transit of Russian gas to Europe. It will probably be 2024, when the contract with Gazprom expires, and a new one will not be signed. The Ukrainian GTS and its UGS facilities plus nationalized Russian pipelines in Europe will be combined into a single South-North network and reoriented to pumping regasified American LNG from the shores of the Baltic, Adriatic and Black Seas.
This means a quiet end to the European Union in its current form. Western Europe, and above all Germany, will find themselves without Russian pipeline gas and will be totally dependent on expensive LNG imports from the United States, which will drastically sag their economy. Within the framework of "Trimorye", apparently, in the future, "Eastern NATO" will be formed, sharpened for a war with Russia. Our country will be left without a guaranteed market for natural gas and other energy resources in the Old World.
So it goes. Is it possible to somehow break this game of Washington?
"Gas deal"?
You can already imagine when the situation will go haywire. It will be February-March 2024, when several factors converge at the same time.
On the one hand, by that time Europe will have completed the construction of the appropriate receiving and transport infrastructure, and Russia can be cut off from the EU through Ukraine. On the other hand, then another presidential election should be held in our country. There is a high probability that the Armed Forces of Ukraine and the National Guard may conduct a large-scale offensive on the territory of the Crimean Federal District, timed to coincide with this event. From this follows the conclusion that both Americans and Europeans need time to prepare, which they should not be given.
Under no circumstances should any "gas deals" be made by increasing pumping through the Ukrainian GTS, and creating safe "energy corridors" by reducing the military activity of the RF Armed Forces to save Africans and Arabs from the cold in Europe. Well, you know what we're talking about. Passed already.
It is possible to destroy the plans of the enemy only by our own large-scale offensive, first in the South, up to Odessa, then in Galicia and Volhynia, preferably simultaneously with an attack from the territory of Belarus. As you can see, it is simply impossible to leave Western Ukraine with its UGS facilities to the Trimorians, and it must be occupied as soon as possible, until Poland has sent its troops into the Eastern Kresy. It is also necessary, due to force majeure, to abandon Nord Stream 2 in the previous format and transfer it to the Kaliningrad Region, where we can build our own LNG plants, from where we can supply Germany with gas in the future. Otherwise, Russia will suffer not just a military, but also a severe geopolitical defeat.