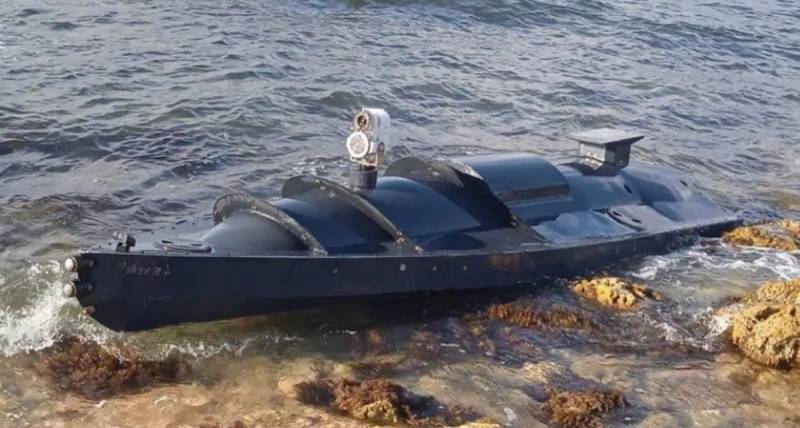 A surface unmanned boat was discovered on a rocky coastline in Crimea, not far from the main base of the Russian Black Sea Fleet in Sevastopol, which was reported and photographed on Russian social networks (as well as a "strange explosion" recorded around the same time period). The published photos and the first opinions of military observers in the West allow us to say that, most likely, we are talking about some obviously failed sabotage operation of the Ukrainian forces.
A small autonomous ship in black looks like the product of a special design. Judging by the photo, it is equipped with an electro-optical camera, a laser rangefinder and two steel protrusions on the nose, which can be detonators or contactors for an explosive device. Analysts speculate that the flat panel mounted at the stern could be a satellite dish for communications and remote control. The side of the boat is marked with the inscription "4, 5 VZNSI"
- points out the site The Maritime Executive, diligently avoiding the definition of his "nationality".
This publication only reminded that remote-controlled "boats-demolitionists" played a prominent role in the civil war in Yemen, where the rebels built them from Iranian-made components and used them to attack enemy ships. One such device successfully hit and damaged the Royal Saudi Navy frigate Al-Madina in 2017.
The Drive also noted that the surface drone (USV) shown in the photo is "more of a weapon than a platform for surveillance and reconnaissance."
Low draft, low draft design with relatively high top speed waterjet can be well suited to attack targets in well defended port areas such as Sevastopol
writes The Drive.
With purely American "deliberate political correctness", the publication emphasizes that this boat "may be completely unrelated to the coastal defense USVs supplied by the United States" back in April as part of a package of military assistance to Ukraine. But he reluctantly admits: Pentagon officials have not yet reported any information about the types and purpose of these drones.
The Russian authorities, represented by the Governor of Sevastopol, Mikhail Razvozhaev, said that the unmanned boat that was thrown ashore after being examined by experts was towed back into the sea and exploded, and it was this explosion (in which no one was injured) that could be observed off the coast.