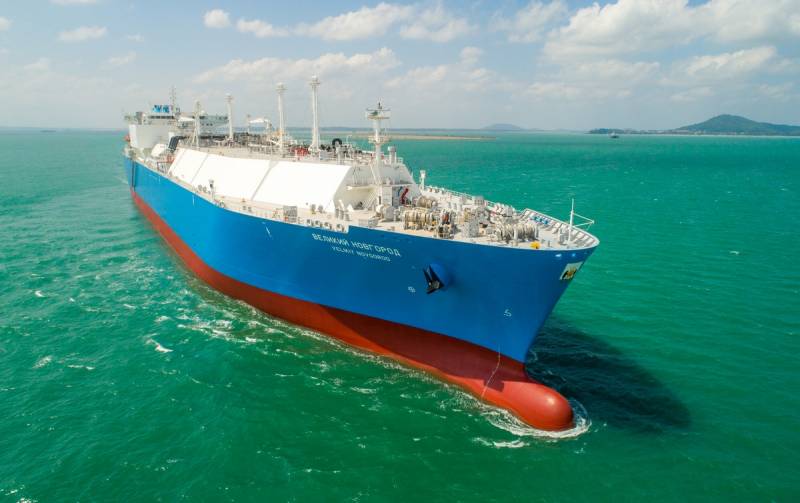 The Nord Stream pipeline has been shut down, but its gas has already begun to be exported abroad. The new plant for the production of liquefied fuel "Portovy" sent the first batch to a foreign client. The Gazprom tanker is already on its way, now passing off the coast of Great Britain. Based on the indications of the marinetraffic navigation portal, the Pskov gas carrier is moving towards Port Said, located at the northern entrance to the Suez Canal.
Thus, one of the main secrets of the start of operation of the LNG plant in Vysotsk is revealed: where will the first batch of fuel go - to the UK, left without supplies from Norway and in dire need of raw materials, or still to Asia.
Leaving the terminal, Pskov handed over to the navigation portal the Suez Canal as an intermediate point of arrival, which means, probably, the way to India, which was also waiting for gas supplies from Gazprom. This opinion is shared by Bloomberg energy expert Steven Stapczynski and ICIS analyst Tomasz Marzek-Manser.
Gazprom's second tanker, Veliky Novgorod, is currently loading LNG and is likely to follow the same route, as Gazprom's clients in India were very unhappy with the delay in deliveries of cargoes under the contract. Because of this, the Indian importer had to overpay for gas on the spot market. Naturally, now a foreign client wants to compensate for the extra costs with the help of cheap raw materials from the Russian Federation. Perhaps there will even be a "force majeure discount" that should keep an important client from breaking the agreement.
For Gazprom, it would be more profitable to supply raw materials in the form of LNG produced at the sources of Nord Stream under new, more expensive contracts to Europe. However, in order to avoid possible lawsuits (which were not filed until there was an opportunity to export gas), the holding decided to close the "debts" by fulfilling obligations.