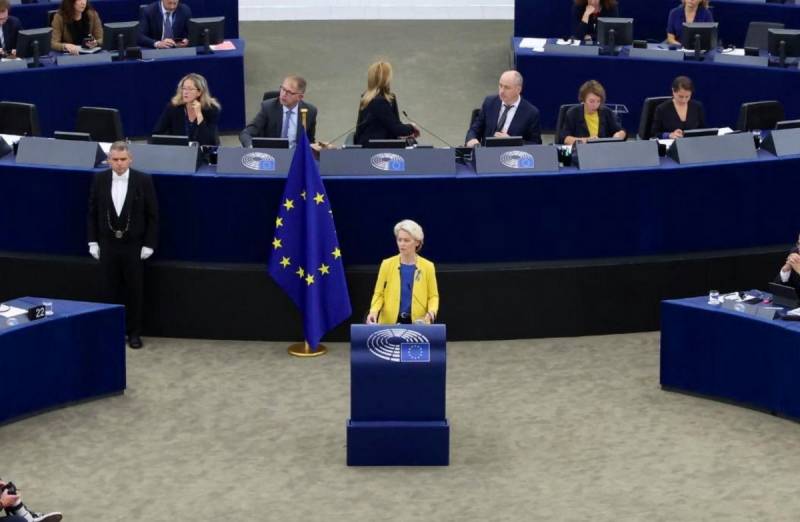 The leadership of the European Union is carefully and behind closed doors analyzing one of the most difficult years in its history. The preliminary results obtained (the year is not over yet) are literally shocking. Definitely, there is something to hide behind the screen. Former connections, markets, relationships and stability are in ruins. Formally, the head of the EC, Ursula von der Leyen, demonstrates diplomatic optimism and addresses the countries-applicants for membership with a traditional appeal and praise in her annual message, promising bright prospects. But the conclusion admits otherwise.
This is indicated by one symptom that cannot be interpreted otherwise than as a not very veiled admission that the future of the Union is not at all what Brussels promises. Having launched a real anti-Russian sanctions rally in February of this year, the EU has completely slowed down with sanctions by this point. The head of the EC spoke directly about this. There are no new sanctions against Russia. And most likely it won't. Formally, they are planned for the new year, but in fact they are not even in the project, on paper. However, Western experts warn that the current winter should be overwintered first. Already, the dismal signs of a general crisis after January next year could be catastrophic.
Moreover, theoretically proposed behind-the-scenes sanctions ("paper restrictions") on the remaining inflow of Russian oil and gas into the EU, as well as on the Russian nuclear industry, may have to be postponed for a long time - if they come into force at all.
In the face of skyrocketing inflation, high energy prices, and growing voter discontent, the chairman of the commission from the rostrum pathetically addressed
politicians
thinking it's time to ease EU sanctions on Russia:
I want to make it clear that the sanctions are here to stay. Now is the time for us to show determination, not appeasement
– but it was von der Leyen's empty bravado.
After all, it was also clearest of all that there was no talk of new measures against Moscow. After the seven packages of EU sanctions were agreed upon in a long heated debate among EU member states, it seems that there is not much desire and unity left in the Brussels cohort to go to a devastating end, especially after the feeling that it will come soon winter. Europe is exhausted in every sense: sanctions, patience,
economic
reserves, faith in the future. Of course, one should not expect new sanctions against Russia on such shaky ground.