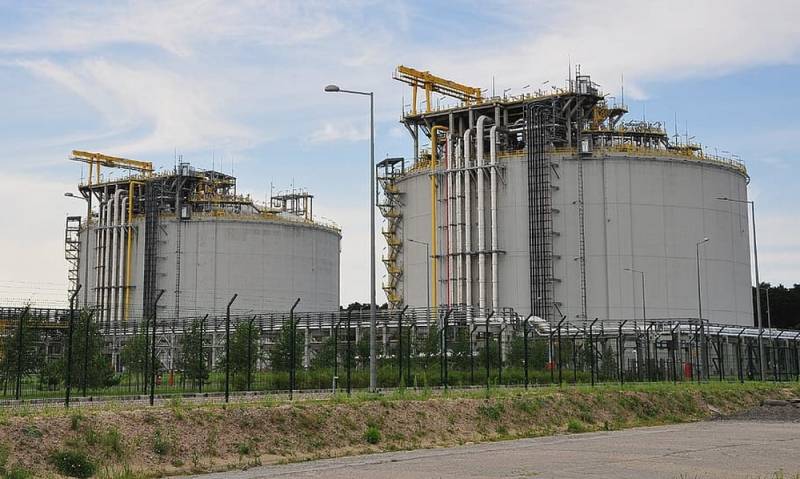 Shale natural gas from the US once played a vital role in Europe's attempt to fill its gas storage before the start of the winter season without supplies from Russia. Nevertheless, the record volume of LNG exports from the United States led to an increase in domestic gas prices. The boomerang of greed returned to America in the form of imported inflation and local greedy traders with insatiable appetites who began to treat domestic clients exactly the same as with "outsiders" from distant Europe. OilPrice writes about this
US President Joe Biden's promise to the European Union to radically increase fuel supplies has cheered Europeans
politicians
so much so that they doubled the sanctions against Russia. A few months later, the EU gas storages were filled ahead of schedule, but this happened at the cost of an exorbitant increase in the cost of fuel in them, as well as the general indicators of the maintenance and operation of underground storage facilities.
Meanwhile, LNG prices skyrocketed. There is a question of price for the US domestic market. Right now, US LNG is competitive only as a result of the frenzied "rally" in pipeline gas prices in Europe due to problems with the Baltic pipeline from Russia. But that doesn't mean American LNG is cheap. In fact, it is very expensive, it was he who caused the sharp rise in the total cost of filling storage facilities. LNG is relatively cheap compared to TTF spot lots.
Now, record exports have "returned" to the US with unstoppably rising inflation. Suppliers, accustomed to fabulous profits, forced to leave part of their production at home, are demanding the European price for gas, despite more restrained domestic cost indicators.
It is hard to do something about the situation, to ban it, because otherwise traders threaten to deliver where they pay more, that is, overseas. The leadership of individual states even decided to use the so-called Jones Act, which implies a ban on loading LNG from foreign tankers in American ports, which will lead to the operation of American ships flying the US flag and with an American crew. This circumstance makes it possible to influence export volumes with the help of legislation. There are no other ways to deal with the "clean market", which exports everything clean.
In any case, the boomerang of greed has already worked against ordinary Americans: Europe has managed to return a kind of gas "debt" to America for an imaginary salvation from Russia. Now experts unanimously say that there will be no more LNG supply records, the experience turned out to be too bitter for both Europe and the United States.