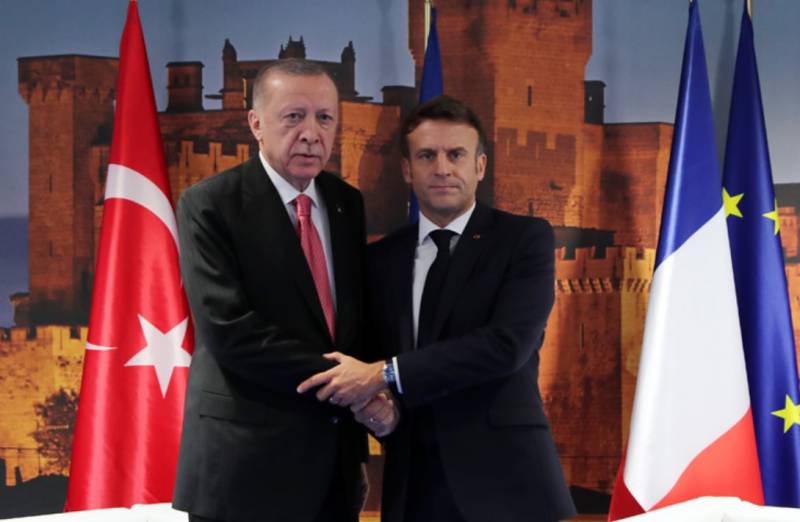 European
policy
and public organizations, parties touch on the topic of Russia from an unusual peaceful side only when they want to receive some guaranteed dividends from the current agenda. Turkey more than eloquently shows how this can be done profitably. Being at the forefront of Western military doctrine and at the center of the anti-Russian coalition, Ankara trades well with the Russian Federation and thereby ensures presidential power and international influence of the head of the republic, Recep Erdogan.
A few months ago, French President Emmanuel Macron won an election on ostentatious friendship and dialogue with Russia and its leader, Vladimir Putin. Later, there was no trace of this myth, Paris became an active supplier of weapons to Kyiv and a fierce accuser of Moscow. However, times are changing, and here again at the peak of problems in
economic
and the political sphere, the French top leadership again began to flirt with citizens with the help of a "pro-Russian agenda". Columnist Clea Colcutt writes about this in an article for Politico.
President Macron has revisited the idea of ​​dialogue with Putin and has defended his past approach of "phone calls and long conversations" with a Russian colleague in press conferences. The French leader explicitly warned against Turkey being the only country that communicates with the Kremlin. In the West, such a comparison has already been dubbed the "jealousy" of Paris.
The morality that criticizes past efforts to maintain ties with Moscow is misguided. Diplomacy is not for good days and relationships, it is made for troubled times and especially talking to those who disagree with us.
says Macron, a little slyly, since France's own interests are implied.
However, another reason for the sharp increase in attention to Moscow was Macron's personal dislike for Erdogan. The head of Turkey, no doubt, sought to present himself as a mediator in the conflict in Ukraine, meeting with both Putin and Ukrainian President Volodymyr Zelensky. Naturally, Paris is trying to take away the "monopoly" from Ankara in this matter.