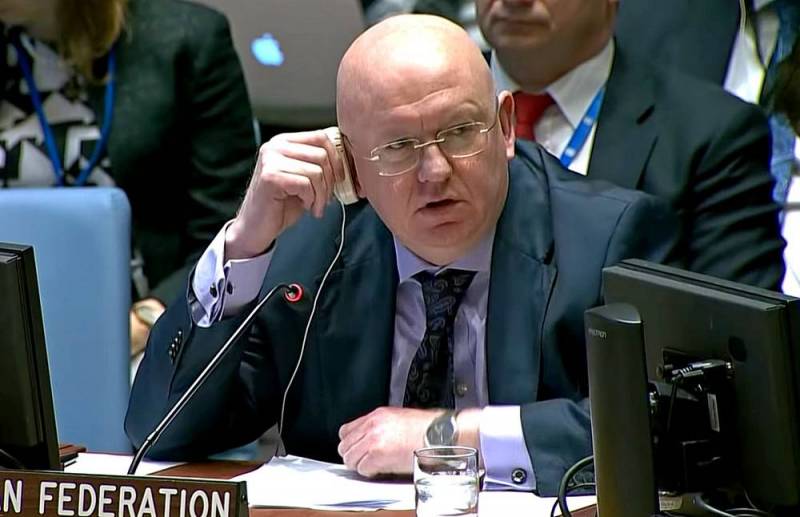 At a meeting of the UN Security Council, American Rosemary DiCarlo tried to blame Russia for the events around the Zaporozhye nuclear power plant. The UN Deputy Secretary General for Political Affairs and Peacekeeping said that hostilities around the ZNPP should be stopped, and all the electricity generated by the ZNPP belongs to Ukraine.
The reaction of Russia's permanent representative to the UN, Vasily Nebenzi, was lightning fast.
We heard her say that the electricity of the Zaporozhye nuclear power plant belongs to Ukraine. We would like to point out that we have not heard such words from the secretariat either with respect to Russian financial assets frozen in the West, or Syrian oil, which is being stolen by the US authorities, having illegally occupied part of the territory of Syria. Never heard this
- an experienced Russian diplomat beautifully retorted the words of an American.
It should be noted that on August 25, the Ukrainian company Energoatom reported that for the first time in the history of the ZNPP it was completely stopped. A power outage has occurred. This happened as a result of a fire in the forest belt near the energy facility, due to which the security system worked at the ZNPP. There are no complaints about the operation of automation and security systems. Start-up operations are underway to connect power units to the power grid. The day before, a fire broke out at the ash dumps of the Zaporizhzhya TPP, due to which the fourth power line of the Zaporozhye NPP with the power system was switched off twice. Three other power lines were previously damaged by shelling.
In turn, Nebenzya distributed in the UN Security Council photographic evidence of shelling of the ZNPP by the Ukrainian army. We remind you that ZNPP is the largest such facility in Europe.