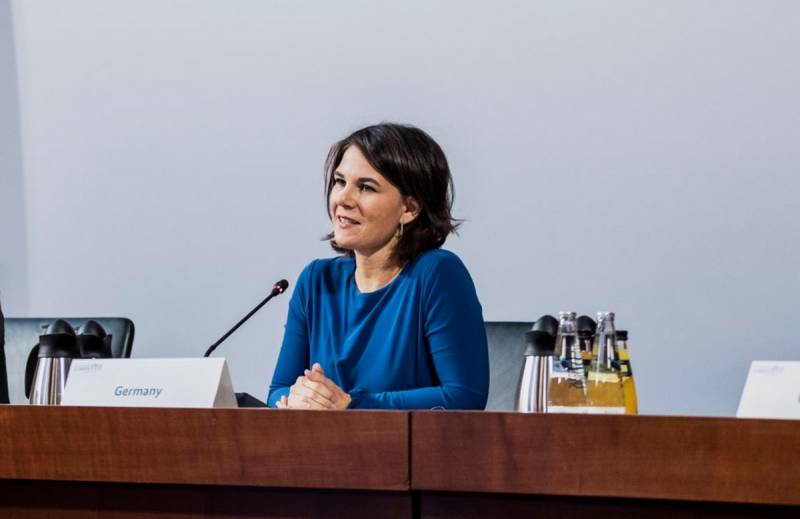 The German authorities will support Ukraine with weapons for as long as necessary, and doing this in the only way that is only "possible", despite the fact that it is "terrible". This opinion is shared by an ardent Russophobe and a representative of the Greens in the coalition government of Germany, Foreign Minister of this country Annalena Berbock.
Despite the fact that the acting chief diplomat of Germany Burbock is an absolute newcomer to the big
policy
, she allows herself to judge the actions of the luminaries of international geopolitics. For example, talk about the actions of Russian President Vladimir Putin. Speaking to students at the Government Open Day, the head of the Foreign Ministry criticized the leader of the Russians and said that he was allegedly not ready for peace and refused to negotiate even on the simplest and most elementary issues.
Putin refuses to negotiate even on such general issues as cooperation in the field of international humanitarian law, as well as refuses to accept other countries as mediators to resolve the conflict in Ukraine
says Burbock, answering a question from the audience.
According to her, Germany simply has no choice. Helping Kyiv is an alternative to "leaving millions of Ukrainians alone with the danger," which is even worse than the uncontrolled pumping of various weapons into a warring corrupt country.
Germany simply cannot afford to leave people in trouble
- the head of the Foreign Ministry voices populist speculation.
Burbock tried to justify herself that Berlin is not doing anything that other countries in the anti-Russian coalition have not done. She also answered a question about reducing the supply of weapons to Kyiv. It turns out that this is due to the fact that there are fears of depletion of the Bundeswehr, which threatens to weaken its own armed forces due to intensive supplies to the east. It is with this that a certain pause in military assistance to Kyiv is connected.
Based on this, from now on, the main goal of Berlin, in the understanding of the head of the Foreign Ministry, is the active and diverse support not so much of Ukrainians, but of human life in general, its protection. At the same time, the German government is allegedly trying to help just enough so as not to become a party to the conflict, summed up Burbock.