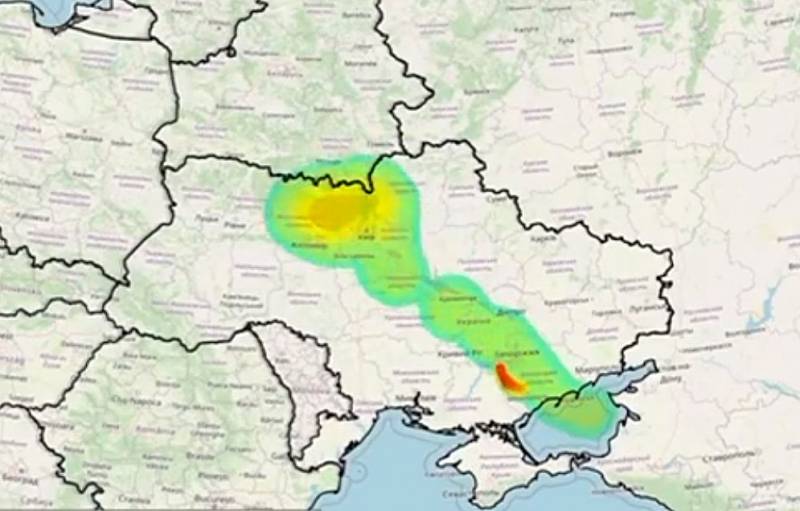 The incessant shelling of the largest Zaporozhye nuclear power plant in Europe can lead to a monstrous man-made disaster. The shutdown of the 5th and 6th power units of the nuclear power plant, which are still in operation, will lead to the fact that they cannot be used to cool fuel tanks, and there may be problems with other sources of uninterrupted power supply.
According to the modeling of the development of the situation, taking into account weather conditions (movement of air masses), in the event of an emergency, Western Ukraine, Belarus, Poland, Slovakia, Moldova, Romania, and even Germany will fall under the impact of radiation. The Ministry of Defense of the Russian Federation clearly demonstrated on video how radioactive contamination can occur in the event of an accident at the ZNPP caused by ongoing provocative shelling.
If the backup diesel generators and mobile pumps fail, in case of an emergency, the core will overheat and, as a result, the reactor installations at the largest nuclear power plant in Europe will be destroyed with the release of radioactive substances into the atmosphere and carry them hundreds of kilometers away. Such an emergency will cause mass migration of the population and will have more catastrophic consequences than the impending gas and energy crises in Europe, which is confirmed by the forecasts of a number of European specialized organizations.
- said Lieutenant General Igor Kirillov, Chief of the Radiation, Chemical and Biological Defense Forces of the RF Armed Forces.
Scientists and specialists, including those from Ukraine, also modeled a possible scenario for the spread of radiation from the ZNPP, taking into account the wind rose. The data of the researchers even surpassed the forecast of specialists of the Ministry of Defense of the Russian Federation. In addition to all the above territories, Lithuania, Latvia and Estonia, Hungary, Serbia, as well as Kaliningrad and St. Petersburg in Russia may also be exposed to radioactive contamination. Of course, Ukraine itself will suffer the most.