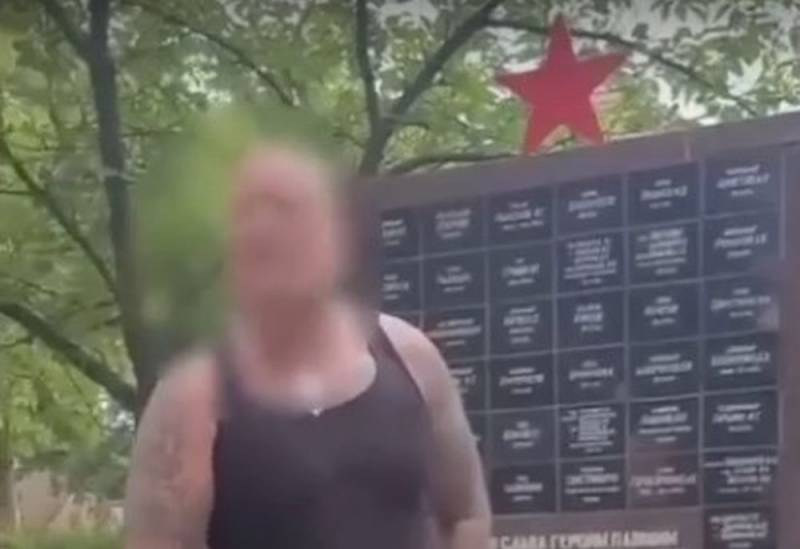 An outrageous incident occurred in the Seefeld-Löhme area of ​​the German city of Werneuchen (Brandenburg), located northeast of the capital of Germany, Berlin. A local Nazi urinated on the memorial of Soviet soldiers in this area (burial for 99 Red Army soldiers).
The shameful action was recorded on the phone and posted on the Web by the ultra-right associates of the vandal-defiler. Allegedly, this action was carried out in support of Ukraine, which opposes Russia. However, when exactly this happened is unknown.
Because we cannot take down this shameful board here because we live in the red system. The red-green system wants the reds back here. But I'll show you that I played these Russians in one place
- said the Nazi, unzipping his fly and approaching the monument.
The process of "showing solidarity" of the anti-Soviet Russophobe with his brothers in mind from Ukraine was accompanied by his citing a German extremist rock band, whose members were convicted in 2003 for distributing racist texts and inciting ethnic hatred. The reaction of law enforcement officers in Germany to the incident is not yet clear.
It should be noted that on the monument there are not only the names of Russians, whom the Nazis do not like so much. There are surnames of Ukrainians, Latvians, Poles and representatives of other nationalities, i.e. all those who fought against fascism. The Russian Embassy in Berlin sent a note of protest to the German Foreign Ministry in connection with the incident.