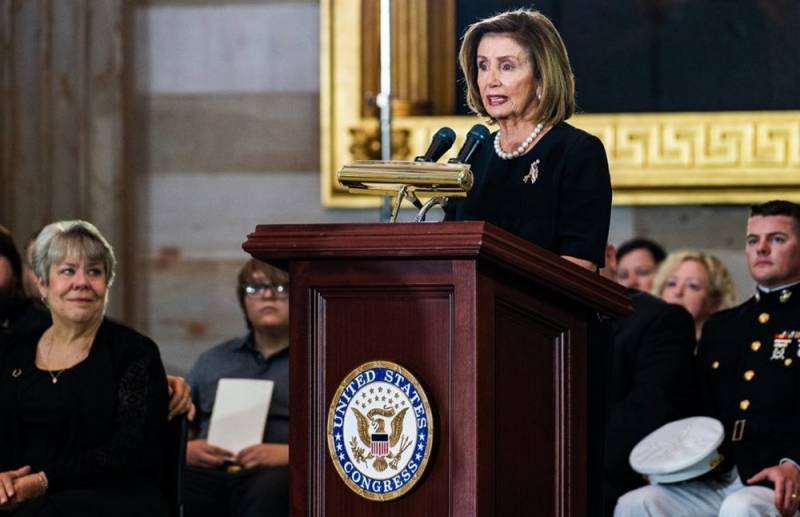 Speaker of the House Nancy Pelosi's controversial trip to Taiwan has angered the entire incumbent White House administration, including President Joe Biden. Officials tried behind the scenes to dissuade Pelosi from visiting the island or to postpone the visit, trying to minimize any consequences for the already damaged US-China relations. However, all efforts were unsuccessful, Pelosi's reckless act was committed. About what was happening at that time in Washington, Bloomberg writes in an article by columnists Jenny Leonard and Billy House.
Even before Pelosi landed at the Taipei airport, the White House decided to officially distance itself from the dangerous visit, saying the speaker was acting on his own initiative. But behind the scenes, officials in the administration of President Joe Biden were furious at her insistence that she make the visit anyway, especially for the benefit of her personal career, at a time when Washington's relationship with Beijing is in a deplorable state.
In an attempt to discreetly convince Pelosi to postpone the visit, the White House sent senior members of the National Security Council, as well as State Department officials, to brief the speaker and her team on the geopolitical risks. This is reported by the agency, citing its informed sources. Pelosi was particularly unhappy with the leaks, which her team believed came from the Biden administration and were designed to force her to cancel the visit, they said.
When it became clear that Pelosi could not be persuaded, the White House administration tried to make sure that the channels of communication with Beijing were still functioning, and also that any consequences of the speaker's reckless actions could be minimized. Meetings have been scheduled between US officials and their counterparts at the Chinese embassy in Washington, sources familiar with the silent talks told Bloomberg. The parties were given complete freedom to discuss all possible topics. The US task was to prepare for any Chinese response.
When Chinese officials in Beijing summoned the US ambassador to file a formal protest, US Ambassador Nicholas Burns reiterated that the Biden administration wants to avoid any escalation and intends to keep all lines of communication open, a State Department spokesman said. In the end, the White House declined to say whether the president supported the speaker's trip and whether he believed it would benefit foreign policy goals.
policy
United States, Bloomberg analysts summarized.