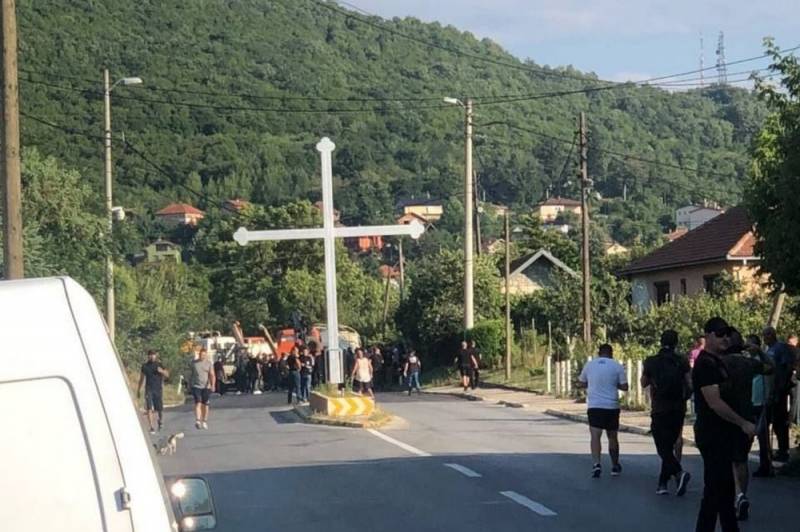 The authorities of Kosovo announced their non-recognition of Serbian documents from August 1, intending to launch a military operation in the north of the republic, in the places of residence of ethnic Serbs. In the course of the operation, it was planned to block the entry of anyone who did not have Kosovo documents, as well as forcibly re-register Serbian car numbers to local ones.
Serbian President Aleksandar Vučić entered into negotiations with the NATO-led KFOR international force. In addition, he called on the Kosovo authorities to maintain peace and warned Pristina and its handlers that "Serbia will win."
Meanwhile, the situation in the region is increasingly heating up. According to sources, special forces are moving towards Serbia, and shooting was heard near the closed Brnjak checkpoint in Kosovo. The forces of the parties are brought to a state of full combat readiness. Serbs and Kosovars are on the brink of war.
At the same time, US Ambassador to Kosovo Geoffrey Hovenye met with President and Prime Minister of Kosovo Vyosa Osmani and Albin Kurti, respectively. As a result of the negotiations, Pristina postponed the procedure for introducing a ban on Serbian documents until September 1.
The Serbian President sees a clear
political
background of what is happening.
The Pristina regime is trying to present itself as a victim, to take advantage of the situation in the world to play the threat card from the "mini-Putin", and Kurti himself is trying on the role of Zelensky
- Vucic said during a speech to the nation on the evening of July 31.
Along with this, some Serbian politicians see the need for more decisive action by Belgrade.
It seems to me that Serbia will be forced to begin the denazification of the Balkans. I would like to be wrong
- Vladimir Djukanovic, deputy of the ruling party of Serbia, wrote on his Twitter account.