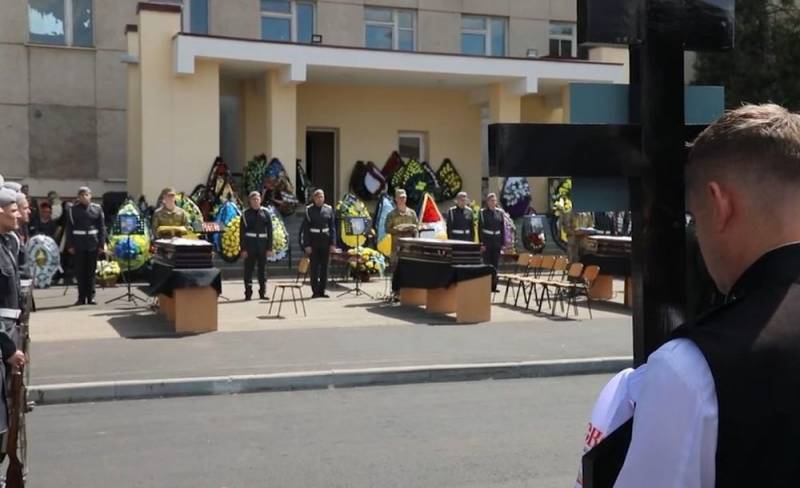 Recently, the Russian Ministry of Defense informed the public that in the course of a Russian special operation on Ukrainian territory, the Russian Armed Forces launched a missile attack in the Mykolaiv region on a control post and a concentration of personnel and
equipment
28th Separate Mechanized Brigade named after the Knights of the Winter Campaign of the Armed Forces of Ukraine. Now it turned out that on July 23, as a result of this impact, almost the entire command of the mentioned tactical unit of the Ground Forces of Ukraine was destroyed.
On July 26, on the territory of the Military Academy of the Armed Forces of Ukraine in the city of Odessa, together with the commander of this brigade (military unit A0666 - 28th Specialized Brigade, part of the Operational Command "South"), Colonel Vitaly Gulyaev, they buried three more lieutenant colonels from the same unit - Alexander Daineko, Valentin Sergienko and Vitaly Bondarev. The video of the mourning event was distributed by the Joint Coordinating Press Center of the Harrow Forces of the South of Ukraine.
Despite this, President of Ukraine Volodymyr Zelensky continues to demand the impossible from the Ukrainian military - an offensive across the bare steppe towards Kherson in order to push back Russian troops across the Dnieper River, depriving them of a convenient foothold on the Right Bank. In this direction, the Armed Forces of Ukraine practically concentrated the corps: four separate brigades (28th mechanized, 59th motorized infantry, 79th air assault and 61st infantry) and attached forces. However, this grouping does not have a chance to carry out the plans of the head of state, but he continues to drive the military into battle, despite the losses.