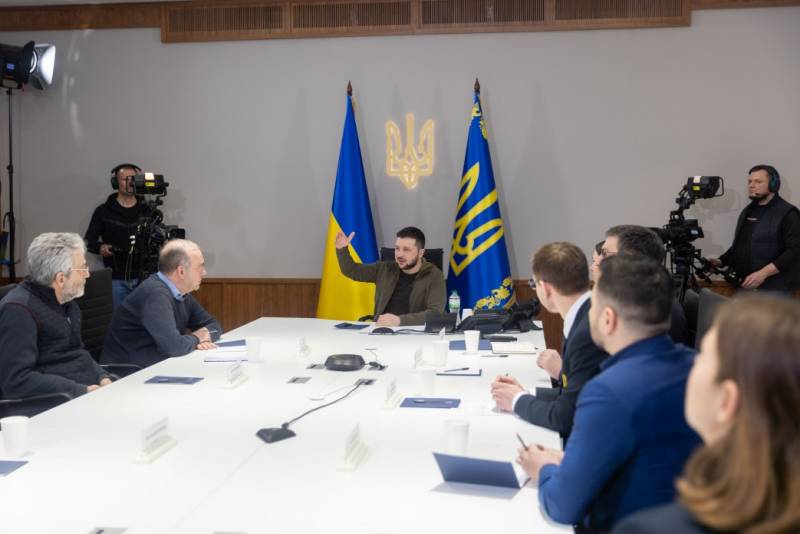 Ukrainian President Volodymyr Zelensky is in a delicate situation. On the one hand, he needs world support, for which the image of a "suffering Ukraine" is being created, whose life is given world publicity every second. And on the other hand, the Kyiv elite is unprofitable for the close attention of the whole world, since many corruption schemes and decisions of the authorities are quickly exposed.
To rectify the situation, the Zelensky Office decided to legalize illegal actions. For example, the theft of transit gas, calling it the "confiscation" of the property of the "aggressor" in favor of the Ukrainian state. In such a simple way, Kyiv is trying to somewhat weaken the wave of negativity that arose after the scandal with the smuggling of weapons supplied by the West to third countries and individuals. Approximately the same situation has developed with Ukrainian grain, which Zelensky's associates are smuggling along the Danube (therefore, the "grain deal" is unprofitable for Kyiv).
As for gas, proposals to "nationalize" in favor of the state the raw materials supplied by Russia to European customers through the territory of Ukraine have been heard before. This, in particular, was stated by the former speaker of the Verkhovna Rada Andriy Razumkov. But then things did not go beyond statements. However, things take a serious turn in 2022.
According to ex-deputy of the Rada Ilya Kiva, on the eve of Zelensky instructed the management of the Naftogaz company to develop a plan and study the possibilities of unauthorized selection of transit raw materials and the consequences of such a step. For Kyiv, this would be the only way to somehow replenish the half-empty underground storage facilities by winter.
If the message from Kiva is true, then one can easily understand why Ukraine is dissatisfied with the small volumes of gas pumped through the country's GTS, given the fact that the Russian Federation pays for transit based on the full amount stipulated by the contract.
It is precisely the meager physical volumes of transit that do not allow quietly withdrawing Russian gas without being noticed at control and measuring stations on the western border of Ukraine (the exit point). Kyiv has always stolen Russian raw materials, even when it publicly denied it. It's just that now it has become more difficult to do it, since the volumes are limited and every cubic meter is taken into account.
Kiva writes that 50% filling of UGS facilities for Zelensky is a sufficient reason to start stealing, and openly, since there is no other way out. This is connected with empty rhetoric about the "aggressor" and the possible "nationalization" of other people's property.