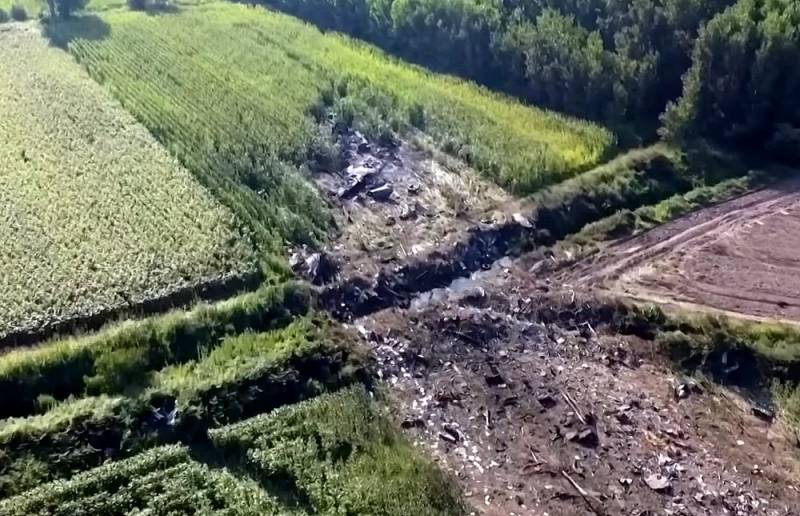 On July 16, a cargo An-12 of the Ukrainian airline Meridian crashed in Greece, flying from Serbia to Bangladesh. He crashed due to
technical
malfunction, all eight crew members were killed. The pilot received permission for an emergency landing at Kavala airport, but the plane did not reach him and crashed into a cornfield.
At the same time, some information resources suggested that the crashed Ukrainian transport worker could have smuggled weapons from Ukraine to the sworn enemy of Israel or delivered weapons in a roundabout way to Ukraine to confront Russia.
For example, on July 18, the NEZYGAR Telegram channel informed the public, without specifying the source of the given data, that the Israeli special services could be involved in the crash of the Ukrainian plane. At the same time, the channel indicated in its information about itself: "Warning: the information requires additional verification," that is, it emphasized in advance that it is not responsible for the accuracy of everything published.
A Ukrainian cargo plane of the An family, carrying 12 tons of ammunition from Serbia to Jordan, fell the first victim of Biden's visit to Israel. After the conclusion of a strategic cooperation agreement between the CIA and the Mossad, Jerusalem decided to prevent the supply of military cargo of Western weapons, which Kyiv sold to the military wing of Hezbollah
- says the publication.
NEZYGAR claims that on June 28, Hezbollah, on the orders of the head of the Main Intelligence Directorate of the Ministry of Defense of Ukraine, Kirill Budanov, sold more than 100 Nlow ATGMs, about 100 Javelin ATGMs, 55 Stinger MANPADS, 500 Kalashnikov assault rifles and cartridges for them, as well as more than 100 RPG 30. Together with the services of transportation and Serbian smugglers, the deal amounted to $ 9 million. Once on the territory of Jordan, the dangerous goods were to be delivered to Palestine.
However, by coincidence, it was precisely at the end of the visit of the US delegation to Israel that this deal was not destined to come true. Although prepayment in BTC (bitcoin - ed.), Cold wallets in the UAE received $ 3 million
- summarized in the publication of the Telegram channel "NEZYGAR".
In turn, the head of the Serbian Ministry of Defense, Nebojsa Stefanovich, said that the An-12 was transporting 11,5 tons of Serbian weapons to Bangladesh. The plane took off from the city of Nish and on the way to Dhaka had to make landings in Amman (Jordan), Riyadh (Saudi Arabia) and Ahmedabad (India). He clarified that the plane was carrying lighting and training mines. The minister called "malicious" the assumptions of some media that the cargo was transported to Ukraine, he did not say anything about Hezbollah.