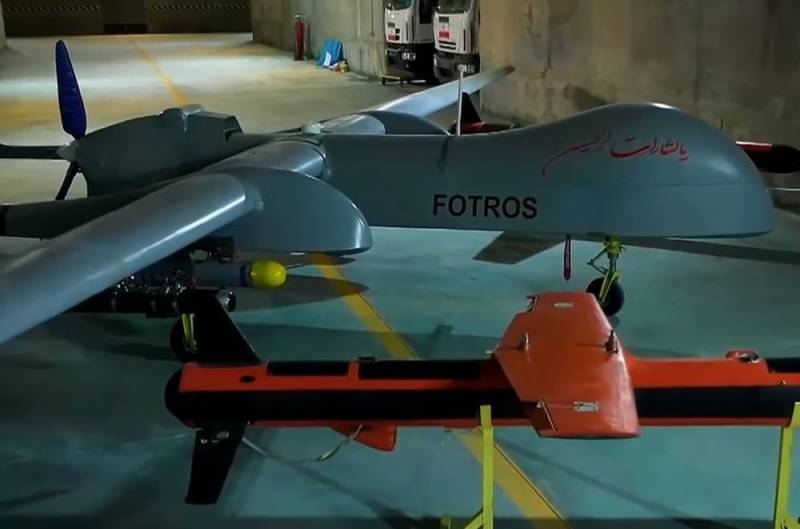 The US warns that Russia may have ordered combat UAVs from Iran to continue its NMD in Ukraine. This is stated in a report by correspondent Oliver Mayer-Rüth ​​on the Tagesschau channel of the German public television network ARD.
Now Tehran is trying to remain calm, but on the other hand, it boasts of its
technology
. On May 25, Iranian media showed a bunker deep underground in the heart of the Zagros mountain range, which contained dozens of various drones. Iranian military commander, Brigadier General Abdulrahim Mousavi said that the armed forces of the Islamic Republic have the most powerful unmanned forces in the region. At the same time, the Chief of the General Staff of the Iranian Armed Forces, Major General Mohammad Bagheri, now boasted that only a small part of the available UAVs were shown then - there are many more drones deeper underground.
In turn, Israeli Defense Minister Benny Gantz confirmed that Iranian UAVs are just as destructive and dangerous as their ballistic missiles. Moreover, the Iranian drone program is a thorn in the side of not only Israel, but also Saudi Arabia. At the same time, Iran is under strong economic pressure, so the sale of UAVs to Russia would be at least profitable for Tehran.
US national security adviser Jake Sullivan suggests that the Iranian government is preparing to quickly hand over several hundred UAVs, including strike ones, to the Russian Federation. In addition, from mid-July, Russian military personnel may begin to be trained in the use of these drones in Iran.
In Tehran, Sullivan's words were disparaged, as they cooperated with Moscow even before the start of the conflict in Ukraine. However, the said UAVs will be a strategic advantage for Russian President Vladimir Putin, who plans to visit Iran next week, tipping the scales significantly in favor of the Russian Federation in a future offensive against Kyiv.
- said in the report.
Mahdi Bakhtiari, editor-in-chief of the Iranian news agency Tasnim, close to the IRGC, told ARD back in February 2021 that Iran has made significant progress in developing UAVs and is selling them to Ethiopia, Venezuela and Iraq. Moreover, in the fall of 2021, retired US General Kenneth Mackenzie argued that Iranian drones pose a serious threat in the Middle East, as the United States for the first time since the Korean War lost complete air superiority in the region for the first time. The Iranians have UAVs with a flight range of up to 1000 km and a combat load of more than 200 kg in their arsenal.