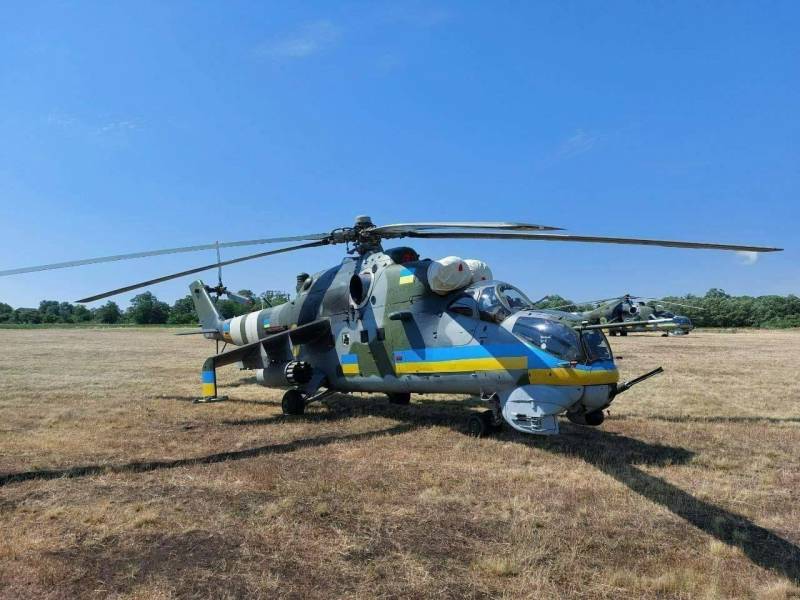 At the end of May, information resources, referring to the words of the head of the Pentagon, Lloyd Austin, reported that the Czech Republic had transferred the Mi-24 squadron to Ukraine. Now a picture has appeared on the Web showing two such helicopters. At the same time, it is striking how casually the rotorcraft are painted in the colors of the Ukrainian flag.
It should be noted that the "artists" did not bother at all with the identification marks of the Air Force of Ukraine on the wings, sides and vertical tail. The state affiliation of the aircraft was simply indicated by drawing a bunch of Ukrainian flags and several long stripes in the appropriate colors. They also forgot about the coat of arms of Ukraine. Who made the application of national symbols, the Czechs or the Ukrainians themselves, is unknown.
Perhaps Prague was in a hurry to please Kyiv with its next gift and approached the process in the style of "it will do." But it is very likely that the Ukrainians themselves "painted" the helicopters in the style of poles, fences and garages.
We remind you that the Czech Republic had 8 Mi-24V units and 6 Mi-35 units. It is not clear how many helicopters the Czech Republic transferred to Ukraine until now. Czech Defense Minister Yana Chernokhova did not give exact figures and refused to confirm the words of her American colleague at the time. Apparently, the Czechs still have such helicopters, since they remain mysterious, because in return they want to receive rotorcraft from American and European partners.