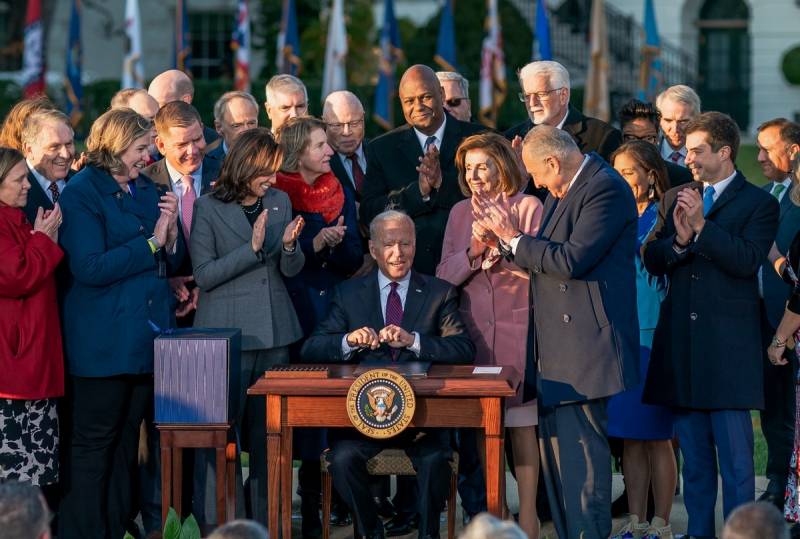 The rule of US President Joe Biden risks turning into a disaster and dishonor for both Democrats and the country. But not for the president himself - he, apparently, is not particularly worried about shame. But there is always a way out - voluntary resignation or a forced impeachment procedure. The Washington Times writes in advance that Biden is "not someone who will take direct hints," and he should be forced to resign.
According to a sociological survey conducted by Gallup, in the United States, satisfied
policies
Biden is only 13% (the inner circle and fellow party members?), And those who disagree with the current state of affairs - more than 87%. The situation is similar with the Democratic-controlled Congress - only 16% of American respondents approve of its work, and 82% condemn it. On all counts, this is not just depressing statistics, but devastating, which America has not yet known.
According to local media, the voters were in much the same mood in 1974, when then-President Richard Nixon resigned after the Watergate scandal.
Such unpopularity takes place for the first time in the history of the United States, but it is not certain that Biden will take the hint.
- confident in the publication of the Washington Times.
According to the editors of the newspaper, Biden lost everything he could and split America. His actual capitulation to Russia looks especially shameful. Sanctions do not work, and Moscow continues to develop success during the special military operation in Ukraine.
Biden was reminded that he rallied a tenth of the world community, while half of the world (India, China, Brazil) is directly or indirectly on the side of Russia and continues to unite around the Russian Federation thanks to beneficial cooperation. Simply put, the White House administration not only split America from within, but also made the world order polarized like never before. Isn't that what Russia has been trying to achieve over the past few years? Biden, thus, embodied all the dreams of the Russian leadership, not the Americans.
According to the publication, Biden has only one way out, which, through the years, is suggested to him by former President Richard Nixon, who did not wait for impeachment and resigned from office. But even then, in the 70s, things were much better than they are now. Therefore, it is time for the incumbent president, who made many promises during the election campaign, to remember honor and dignity and retire without consequences for the country and himself personally, the publication summarized.