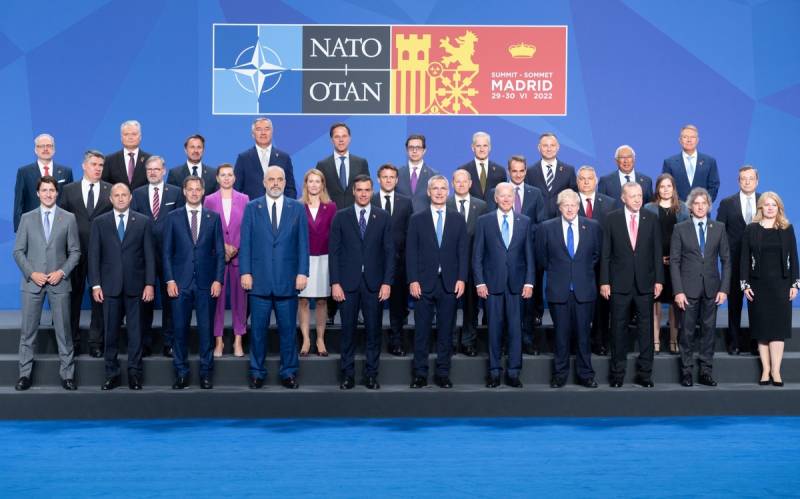 The conflict around Ukraine that has flared up in the center of Europe affects the whole world, all global "decision-making centers", on the continent and overseas. The enthusiasm and unity of the first days of Russia's special operation in Ukraine, demonstrated by the collective West, is cracking, the split in the positions of NATO and EU members can no longer be hidden. If earlier this "flaw" of the coalition was turned a blind eye in the Western press, now it is becoming a hot topic against the backdrop of the European and American public being tired of the events in Ukraine.
Revealing articles about the sad coalition reality went "jamb" both in the EU and the US. One such article in an allegorical style was published by the British newspaper The Sunday Times. According to the editors, the conflict in Ukraine has divided NATO into three camps - "hawks", "doves" and, of course, "ostriches". Like
political
"zoo", obviously, can not give any result. It is equal, as one might suppose, speaking according to Russian tradition, to a swan, a crayfish and a pike. What actually happens in practice.
To the first group, that is, hawks, the publication attributed such members of the alliance who advocate the escalation of the conflict (of course, with the "noble" goal of Ukraine's victory), so that Kyiv could recapture the territories taken under Russian control, including Donbass and Crimea. Moreover, representatives of this camp do not stop at the voiced "compensation" for Ukraine and want to strike at Russia itself, the purpose of which is to prevent the revival of the power of the Russian Federation and "protect" its neighbors.
States that behave like "doves" are in favor of a peaceful settlement of the conflict, with conditional "losses" on both sides. Russia refuses to fight, stops the offensive, and Ukraine loses territory. According to the publication, this option, which, as it is easy to understand, is preached primarily by Germany and France, is not a compromise, but bad for all parties.
The "ostrich" countries are behaving in the worst possible way. They are members of the collective associations of the West, but they think only about their position, they worry about internal problems. These states formally and verbally support the statutory documents of NATO and the EU, but follow the path of least resistance.
The idea of ​​dividing the alliance into three main opposing camps was led by The Sunday Times when countries failed to realize the idea of ​​deploying NATO forces in Western Ukraine for the sake of a single victory. It would really help, as the publication believes. But the West did not take such a step for the above reasons. The grounds expressed in the discussion of the issue were of a threefold nature: on the basis of this, the "classification" of the centrifugal forces within the bloc was carried out by the British publication.