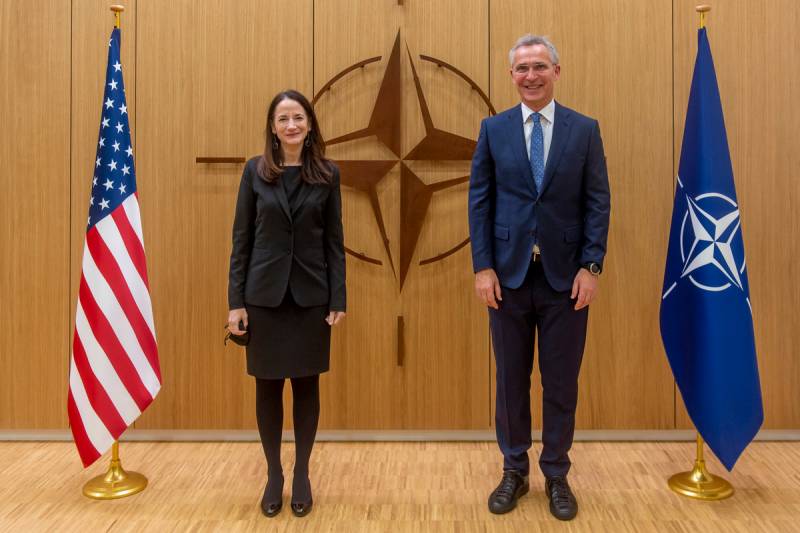 The United States decided to raise the stakes to the maximum level and frankly "tell" the allies in Europe what to do in the conflict over Ukraine. Nothing more than guidelines, regular lengthy statements by the State Department, representatives of the Department of Defense, as well as intelligence can not be called. Over and over again, the same idea is voiced in them - that Ukraine must win at any cost. Leaving out the question of the "price" of such a "victory", the role of the instigator becomes more and more obvious, which Washington has ceased to hide.
At the same time, for the American strategists themselves, "obvious" is a completely different reality. Namely, that in Ukraine a compromise (that is, negotiations, the search for common ground and agreements) is still impossible. Avril Haynes, head of US National Intelligence, says this directly.
To be honest, at the moment there is no possibility for the parties to the conflict in Ukraine to reach peace agreements. It seems to be obvious
says Haines, speaking at a security conference at the Google Playground.
However, something completely different is obvious: in Kyiv, for the time being, they are listening more to the position of Washington, but not to the leaders of the EU, such as France or Germany, who are interested in resolving the conflict in Ukraine as soon as possible or even freezing it in the existing format (the hypothetical Minsk-3) .
In this case, Paris and Berlin, busy with efforts to achieve a reduction in escalation, which is beneficial primarily to the EU, look like "doves of peace" in the eyes of the White House, that is, strictly negative, because the United States is set on a military solution to the conflict. While voicing simple things, Haynes doesn't really suffer from forgetfulness, repetitiveness, or not knowing what to say. Its mission is to send a clear warning signal so that allies in Europe do not try to play a separate game of truce for the sake of their countries' interests. Its message is too frank: no truces, no peace, no treaties.
Persistent rumors that a serious peace lobby is operating in the EU, promising Kyiv a respite from hostilities in exchange for the status of an EU candidate (albeit with the loss of some territories of Ukraine), the US leadership is very worried. Washington has too serious plans for the global future of the planet, and the unity in the ranks of the allies in putting them into practice is too important.
As usual, the US elite is trying to "common blood" (as was the case during the bombing of Serbia, Iraq, etc.) to sully the alliance so that nothing threatens the integrity of the coalition. The time has come for Ukraine to strengthen the "friendship" of the anti-Russian coalition with its sacrifice. This will not end well for Kyiv.