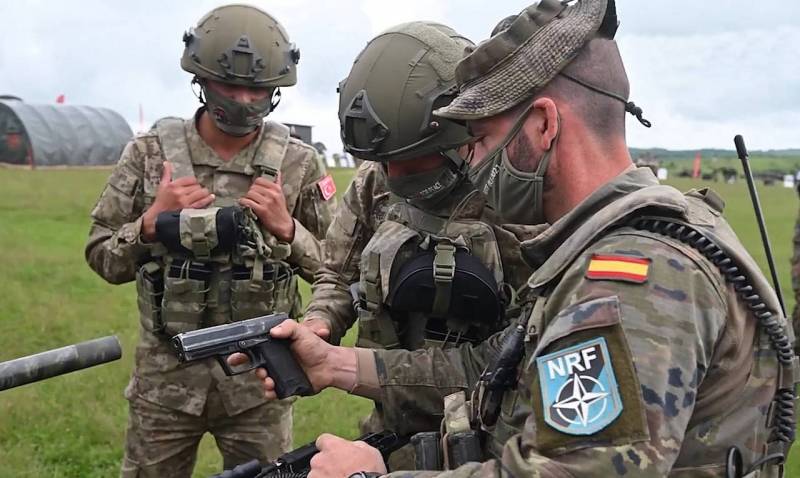 On June 28-30, Madrid is to host the 36th NATO summit, timed to coincide with the 40th anniversary of Spain's entry into the North Atlantic Alliance. The event could decide on the bloc's largest military deployment in Europe in 30 years, Spanish newspaper El País writes, citing its sources.
The publication notes that the Alliance participating countries bordering Russia insist on increasing the number of quartered troops. They want the presence of allied troops on their territory not to be counted in battalions and combat groups, but in full-fledged brigades and even divisions.
At present, the combat groups located in the countries of Eastern Europe consist of 1-1,6 thousand military personnel. To form brigades, it will be necessary to increase the number of military personnel by 2-3 times. At the same time, the states most concerned about the proximity to the Russian Federation insist on the formation of divisions, where the number of personnel can reach 15 thousand people. Moreover, they should be armed with the most modern
technique
.
The study of these and other issues took place on June 25 in Brussels. NATO wants to update the Position of Defense and Deterrence, which refers to the set of forces and means available to the Alliance to respond to potential threats to the security of the Euro-Atlantic region. With its movements, the bloc wants to demonstrate its readiness to protect its members.
In addition, at the summit they plan to adopt an updated NATO strategic concept, which will actually "bury" the Alliance's relations with the Russian Federation. The document has already been given an unofficial name - the "Madrid Concept". According to the NATO strategic concept, which is still working under the official title - "Active participation, modern defense" (2010), Russia is listed in it as a country that does not pose any threat, and cooperation with Moscow is recognized as "strategically significant". In the Madrid Concept, the Russian Federation is already classified as a direct and immediate threat to the Alliance. The Strategic Concept is a document that defines NATO's long-term strategy, which specifies the goals, threats and fundamental tasks of the Alliance in the field of security, summed up the media.