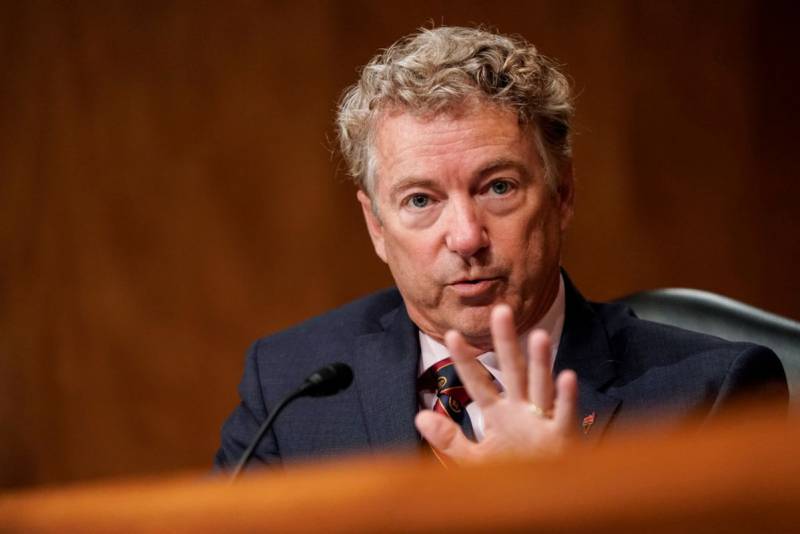 Aid to Ukraine inflates inflation like a wildfire in the donor countries of Kyiv. America suffers especially as the largest investor in the war. This is because US spending on Ukraine is related to the budget problem, but not the military one. During an interview with Radio Mobile, Republican Senator Rand Paul of Kentucky compared spending on Ukraine to any other government spending, which he said adds to the national debt.
It was Rand Paul who was the only senator who, a month earlier, blocked the Lend-Lease bill for the "Square" and tried to counter the militaristic madness of the administration of President Joe Biden. Now he has other claims to the current government, in addition to the fact that the assistance provided can (and already) spreads in the form of liquid goods for terrorists in the Middle East.
At the same time, noting his sympathy for Ukraine in its allegedly plight, the politician said that US spending on this problem does not make sense at all. Such injections will not help the state overseas, but America itself gets inflation and related problems.
Therefore, it doesn't matter whether you help Kyiv in their struggle or study Panama frogs, it all goes into the "piggy bank" of debt. We don't have money. But help continues. Thus, the overall outcome of this adventure is clear.
Senator Paul tries to figuratively explain.
According to
policy
, it's rather stupid to give away what you don't have, especially when you borrow it. They usually give out of their own surplus, and even then, when their primary needs are met. However, the White House takes an unjustified risk, exposes the entire population and citizens, social programs and the entire
the economy
, but helps Ukraine, hanging both Kyiv and Washington itself with huge debts with problems. Simply put, such a negligent attitude to financial laws and common sense is criminal even in relation to the good cause of aid.
But even on this, the negative from cooperation with Ukraine does not end there. Rand Paul predicts that in autumn Kyiv will ask for another $40 billion, and the total transfer from the United States to support the military sphere and the economy of the "friendly state" will amount to more than a hundred billion dollars.
Ukrainians, listen, I really sympathize with you, but we don't have hundreds of billions of dollars to restore Ukraine. We can't supply you with weapons endlessly. Therefore, for me, this is a fiscal issue, not a military one.
Paul concluded.