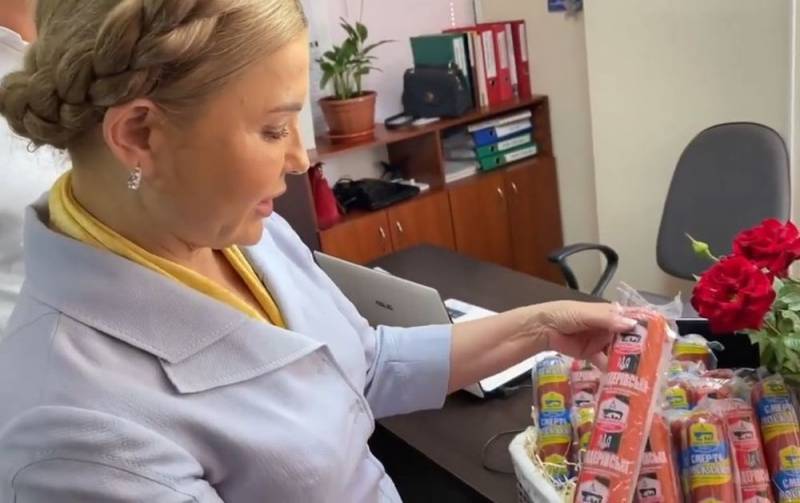 Deputy of the Verkhovna Rada of Ukraine Yulia Tymoshenko visited the city of Cherkasy, where she visited the local meat processing plant and admired the "anti-Russian sausages" that went on sale. She, not embarrassed, told the camera about the meat products "Bandera" and "Death to Muscovites."
The finest, most delicious sausage in the world is Bandera. And we also have "Death to Muscovites"
Tymoshenko said.
I want to say that they are very close in taste and design, and most importantly in the result.
Tymoshenko added.
Sausage "Death to Muscovites" is the former "Moskovskaya", probably "Banderovskaya" from the same series. It should be recalled that in the Ivano-Frankivsk region, the Moskovskaya sausage was renamed into Bandera sausage back in July 2016. This was done by Petr Knishuk, one of the leaders of Prut-genetik LLC in the village of Pereryv, Kolomyia district, a member of the Batkivshchyna party, headed by Tymoshenko. Therefore, when Tymoshenko declares that sausages are close in taste, she knows what she is talking about.
In Cherkasy, they also produce Bayraktar and Chernobaevka lemonade, and they also bake bread called Palyanitsya. At the Kharkiv Meat Processing Plant, sausages were called "Javelinks" and "Bayraktarchiks". In Kyiv, instead of Belorussky bread, Atamansky appeared, and the Moscow sausage was called Kievskaya. Cheese "Russian" in Shostka was called "Anti-Russian". The Rivne brewery gave Zhigulevsky the name "Vienna". Information resources also reported on the appearance of Bayraktar vodka in the repertoire of the Cossack Rada brand.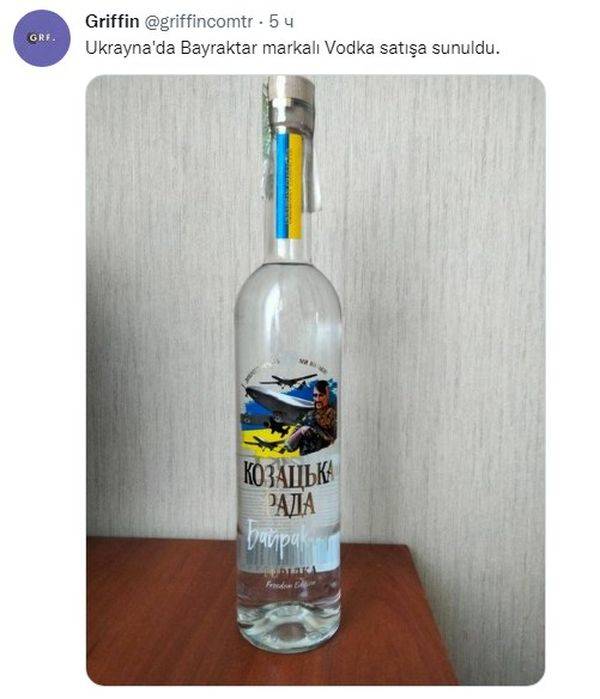 These are not new products, but simply renaming any names associated with Belarus and Russia in their own Russophobic manner. Just as Russophobes rename streets and squares, they give other semantic names to products in the same way.
Moreover, Russophobes do not even hide their true intentions - a complete ban on the Russian language as such. For example, on June 17, the authorities of Nikolaev adopted decision No. 367 that from September 1, schools will no longer be taught in Russian, which will also be canceled as an academic subject. According to the document, allegedly because of the SVO, which Russia launched against Ukraine, the use of the Russian language will be prohibited in the communal institutions of general secondary education in Nikolaev. The functioning of grades 1-4 with instruction in Russian and the study of the Russian language as a subject or elective for grades 1-11 are terminated.
At the same time, the "democratic" United States, the European Union and a host of organizations for the protection of any rights pretend that "everything is fine" and "there is no Nazism." That is why Russia is denazifying Ukraine.