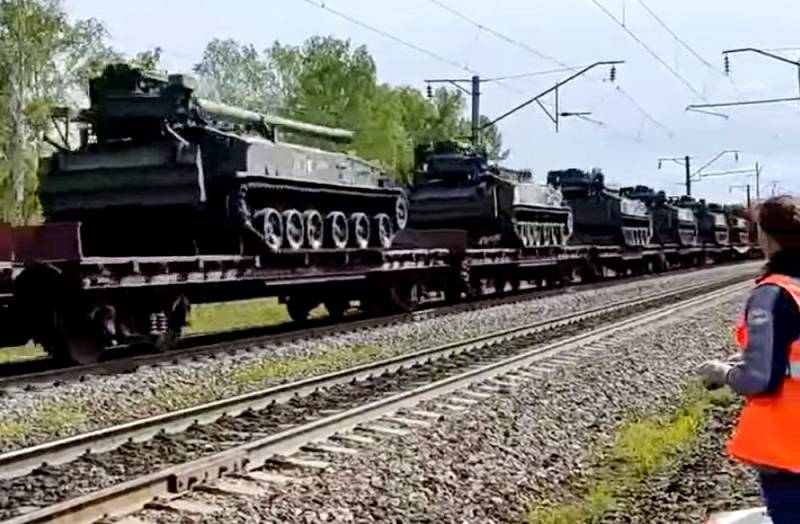 A video appeared on the Web showing the movement of a train from a military
technique
Russian Armed Forces from the Irkutsk region towards Ukraine, where a special operation is taking place. According to social networks, the echelon is sent to strengthen the Russian group of troops near the city of Zaporozhye, which should eventually become the second regional center that has come under Russian control.
The footage shows that Soviet 9 mm 57K220 Uragan multiple launch rocket systems and 2 mm 5S152 Giacint-S self-propelled guns are on the transport platforms. They can be sent both from active units and be removed from storage. Moreover, 2S5s are mainly designed to destroy powerful fortifications, although these artillery systems have many other useful functions.
Note that Ukraine also has similar weapons systems. As of 2019 and 2021, the Armed Forces of Ukraine had 60 units of 9P140 "Hurricane" and 18 units of 2S5 "Hyacinth-S", respectively. In addition, in 2020, the Shepetivka Repair Plant tested the new Burevіy MLRS of 220 mm caliber ("Hurricane" in Ukrainian) to replace the Soviet Uragan MLRS. MLRS "Bureviy", placed on the T815-7T3RC1 chassis from the Czech Tatra with an 8x8 wheel formula, were supposed to use both Soviet ammunition and new ones, with an increased target destruction range from 35 to 65 km, which were developed by Yuzhnoye Design Bureau as part of the program "Typhoon-2". How many new MLRS the APU has is unknown.