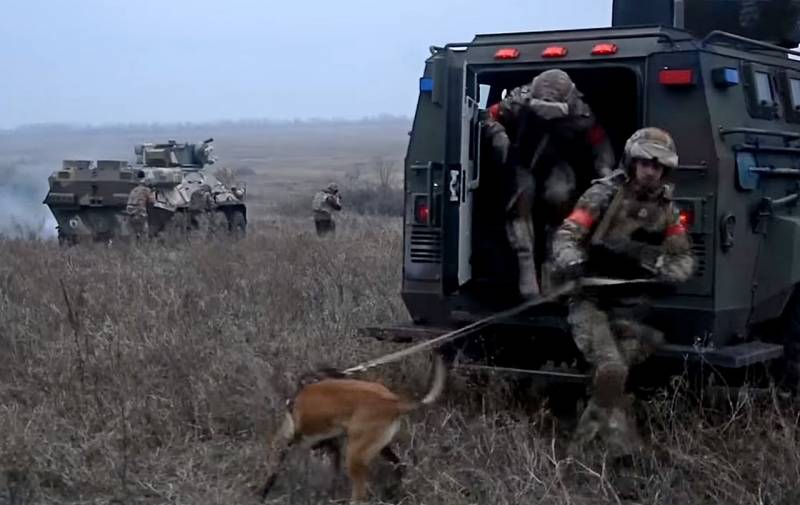 In an attempt to raise the morale of its army, Kyiv goes to all sorts of tricks. Among them was a staged battle between the Ukrainian army and Russian units, filmed on video. Footage of this "masterpiece" hit the social networks.
A film about fictitious military operations was filmed on May 28 near the village of Meshkovka, Mykolaiv region. The filming demonstrates the supposedly "high efficiency" of the work of the Armed Forces of Ukraine against the Armed Forces of the Russian Federation. The reconstruction of the battle was carried out according to the scenario of the British curators of Kyiv.
Ukrainian servicemen with red armbands acted as soldiers of the Russian army. And for the downed Russian
machinery
for lack of it, Ukrainian armored personnel carriers and armored vehicles were issued.
Earlier, publicist Pavel Shulzhenok noted that Ukrainian propaganda openly demonizes Russia, not shunning any fiction. At the same time, the Russian side does not resort to such methods of informational discrimination.
The failure of Ukrainian propaganda is that the very course of events exposes the constant lies and misinformation broadcast by the Ukrainian side
- the expert noted in an interview with IA
Regnum
.
Meanwhile, real Russian servicemen bombed the warehouses of the 406th artillery brigade of the Armed Forces of Ukraine in the Nikolaev region the day before. As a result of the actions of the RF Armed Forces, about 12 American M777 howitzers were destroyed, 80 Ukrainian militants were killed, and about 50 were injured.