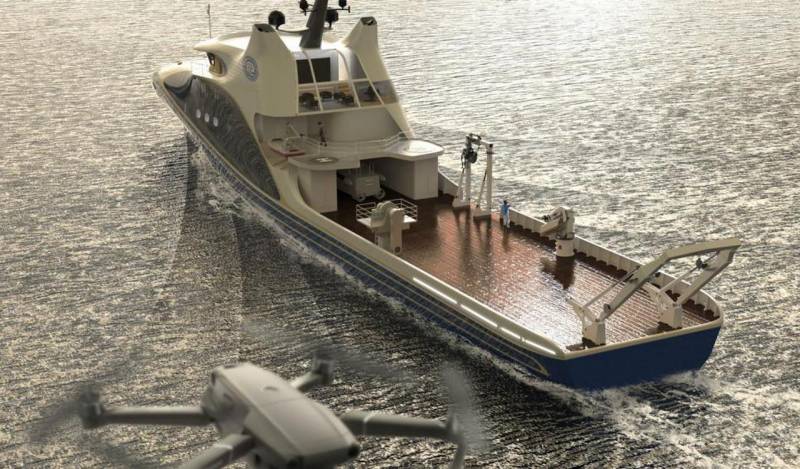 A few days ago it became known about the launch in China of the first semi-autonomous drone ship called Zhu Hai Yun. This event is very remarkable, since the PRC was able to put into practice an extremely promising concept, which can also be useful for the Russian Navy.
Chinese drone carrier
Formally, the Zhu Hai Yun is a peaceful research vessel with a displacement of only 2000 tons. Its length is 88,5 meters, width - 14 meters. The maximum speed reaches 18 knots, cruising - 13 knots. The ship was built by Huangpu Wenchong Shipyard and is part of the Intelligent Mobile Ocean Stereo Surveillance System (IMOSOS) developed by the Southern Marine Science Laboratory and
equipment
Guangdong. It is semi-autonomous: in the port it is controlled remotely, and on the high seas, control passes to artificial intelligence.
Of greatest interest, in addition to the use of AI in the fleet, is the "weaponry" of the Chinese drone carrier, represented by air, underwater drones and unmanned small surface vessels with a total of 50 units. They allow both peaceful research of the World Ocean, and hypothetically - aerial reconnaissance and target designation, underwater reconnaissance and mining. They don't talk about a possible military mission directly in the PRC, but it is implied by itself.
And this is a very interesting project, which clearly shows in which direction the Russian navy can go further.
Why are drones needed?
So much has already been said about why carrier-based aviation is needed at sea that there is little point in repeating. Who needs it, he knows himself, who doesn't need it, you can't convince him. But, perhaps, the only sound counterargument that the "aircraft carriers" put forward is that these are large and expensive ships that take a long time to build and then need infrastructure for basing and maintenance. Alas, this is true.
You have to pay dearly for versatility. If you build an aircraft carrier, then a full-fledged, heavy attack one, with a nuclear power plant, catapults, a large air wing, and you get something like the Ulyanovsk ATAVKR with a total displacement of almost 80 tons. If you look at the project 000 universal landing ship, then the designers tried to cram maximum functionality into it: a tank deck, landing aids, an infirmary, cockpits for the crew and a battalion of marines, hangars for helicopters, and much more useful. It turned out to be an excellent multi-tasking ship with a total displacement of 23900 tons. Need aircraft carriers and UDC fleet? Of course they are. But their construction is a long and expensive business, while part of their tasks could well be solved by ships of significantly smaller sizes and costs. In particular, drone carriers.
So, what tasks can a drone ship solve?
At first
, this is aerial reconnaissance, over-the-horizon search and target designation. This will require the creation and "fading" of the AWACS UAV.
Secondly
, anti-submarine warfare using helicopter-type drones equipped with radio buoys, magnetometers and submersible sonar.
Thirdly
, delivering missile strikes against ground targets by reconnaissance and strike drones.
Fourthly
, with the help of the promising Lancet kamikaze UAVs, the so-called air mining is possible, and underwater drones will be able to carry out real mining or, conversely, demining the water area.
Fifthly
, the drone ship is capable of patrolling and guarding maritime borders over long distances thanks to the use of reconnaissance UAVs.
In other words, a very useful ship for the Russian Navy would have turned out. And I must say that rumors about the start of work in Russia on a platform ship for UAVs began to spread last year.
How it might look
We note right away that it will not be possible to completely and completely focus on the Chinese drone carrier. Zhu Hai Yun is still a purely peaceful ship, on which promising concepts and technologies are only being tested.
It is unlikely that anyone will seriously launch a drone carrier controlled by artificial intelligence into battle. Without a crew, preparing UAVs and underwater vehicles for a combat mission, refueling, repairing and performing other manipulations is unrealistic. Therefore, the team will still be, but its size could be reduced by means of automation. Therefore, premises will be needed on board to ensure its vital activity, but it will be possible to save on the size of the ship, forgetting about tank decks, infirmaries, and so on, as on the UDC.
Also, the modesty of displacement will benefit from the fact that neither catapults, nor hangars for aircraft, nor cellars with ammunition, nor a nuclear power plant, as on ATAVKR, will be needed. What is needed is a longitudinal deck with an "island" superstructure, moved to the right, where the air wing's electronic control center will be located so that aircraft-type UAVs have space for acceleration and takeoff, as well as special nets for landing. Helicopter-type drones will be able to take off and land on a modest site. Drones-"kamikaze" in their last flight will be launched using a pneumatic catapult. Hangars for storing aviation, surface and underwater groups will be located below deck.
Such a drone carrier will never be used independently, only as part of a ship strike group (KUG), which will provide its anti-aircraft and anti-submarine protection. Nevertheless, a small-range air defense missile system such as the marine version of the "Shell" must be installed.
As a result, the displacement of our promising drone ship will increase from 2000 tons, like that of a "Chinese", to 6000-8000 tons, like that of a frigate or destroyer, but this is something that the domestic shipbuilding industry can master without strain. The benefits of an auxiliary aircraft carrier of this class are obvious, since it will significantly expand the capabilities of the KUG, in which it is located.