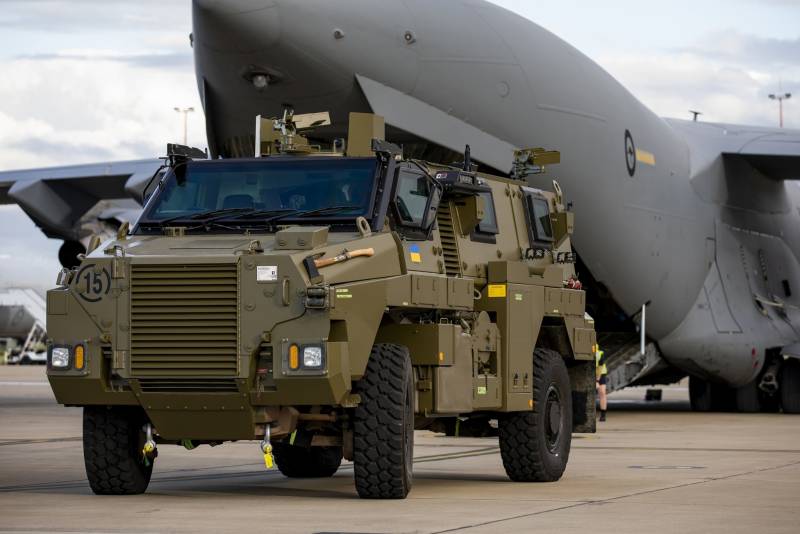 Sources report that in the Donbass, Russian troops are disabling Australian MRAP Bushmaster PMVs with an EOS R400 MK2 combat module. So, footage from the destroyed
technique
from the Lugansk region are published on social networks.
Kyiv and Canberra agreed on the supply of armored vehicles in early April.
The Bushmaster PMV is manufactured by Thales Australia and is capable of carrying 9 troops. The armored vehicle is equipped with protection against small arms and mine explosions (6 kg of TNT), which complies with the STANAG 4569 standard. The Australian army is armed with 1 units of such equipment.
In addition, Ukraine has agreed with the UK on the supply of armored vehicles. According to Army Recognition, Mastiff and Wolfhound vehicles equipped with mine protection have been handed over to Kyiv. In particular, footage of the exercises of Ukrainian military personnel on the Wolfhound got onto the Internet.
The Wolfhound is a heavily armored military truck used to transport ammunition and supplies. In addition, the vehicle can be used to tow 105 mm guns.
Meanwhile, London has promised to hand over 120 pieces of armored vehicles and missile systems to the Kyiv regime, which will supplement the weapons already delivered earlier.