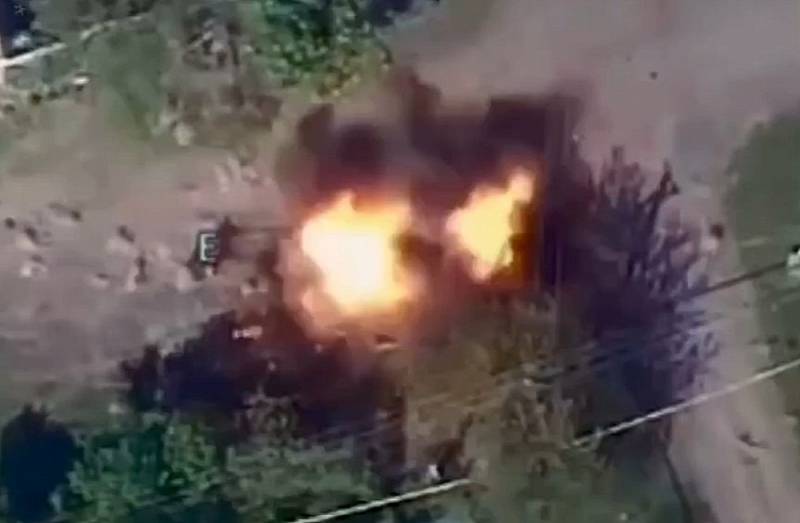 A video has appeared on the Web showing the combat work of the Special Operations Forces of the RF Armed Forces against the special forces of the Armed Forces of Ukraine. The footage documented an episode of the Russian military preventing an attempt by Ukrainian soldiers to break through the front line in the village of Pavlovka in the Donetsk region (DPR).
Events unfolded as follows. On May 8, Ukrainian security forces in the amount of a reinforced company (about 150 fighters) launched an offensive through the mentioned village in the Maryinsky district. They moved in groups of 10-12 people. The defeat of one of these groups and got on video.
The fighters of the Armed Forces of Ukraine were impartially observed from the air by a drone of the ZALA family, which examined the area, gave target designations and at the same time carried out an objective control of the results of hostilities. Then, the UAV-kamikaze "Cube" (loitering ammunition) was struck at the Ukrainian military by specialists of the Russian SOF. As a result, the loss of the enemy amounted to about 9 people (killed and wounded) only in this episode. The special forces of the Armed Forces of Ukraine were ousted from the indicated settlement.
It should be noted that both aircraft, the ZALA family drone and the Cube kamikaze UAV, are manufactured by the Russian company ZALA AERO GROUP Unmanned Systems from Izhevsk, which is part of the Kalashnikov concern. This product has proven itself well during the hostilities in Syria, now it is successfully used in the process of self-defense in Ukraine.