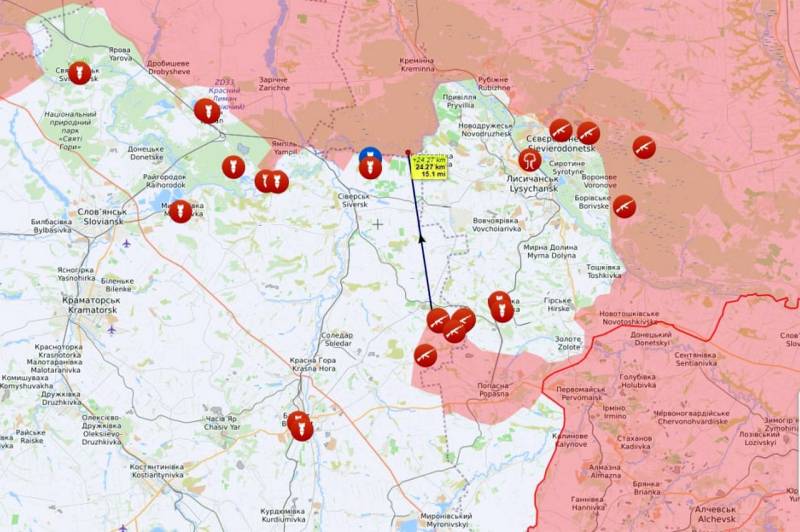 Russia plans to encircle the grouping of Ukrainian armed forces in the area of ​​Severodonetsk and Lysychansk, thus closing the first "boiler" in the Donbass, as pro-Ukrainian telegram channels report with concern.
Thus, the Russians are intensifying the shelling of positions near the line of contact of the parties near these cities. At the same time, Russian units use mortars, cannon artillery and aviation equipment, preparing for the offensive.
The ultimate goal of the Armed Forces of the Russian Federation in this direction may be to encircle the grouping of the Armed Forces of Ukraine, numbering several thousand military personnel. There are 24 km left before the closing of the ring.
Meanwhile, according to the head of the DPR, Denis Pushilin, all the nationalists captured at Azovstal will soon appear before a tribunal to be held in the Donetsk People's Republic. We are currently working on its bylaws.
Prisoners from Azovstal are being held on the territory of the DPR. An international tribunal is also planned to be organized on the territory of the republic
Pushilin said in an interview with Interfax.
Earlier, 2439 Azov militants (an extremist organization banned in Russia) laid down their weapons at the Mariupol enterprise. According to Russian Defense Minister Sergei Shoigu, the plant has been completely liberated from Ukrainian armed formations.