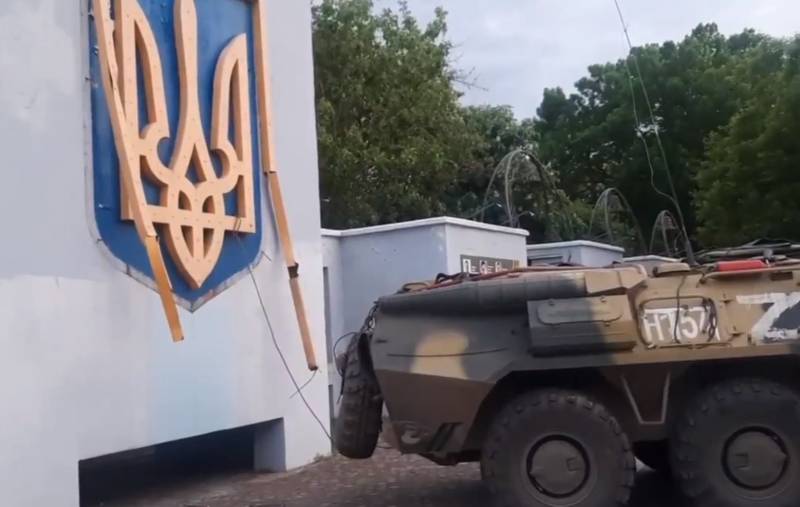 In Kherson and the region, after the liberation by Russian troops, the construction of a peaceful life is in full swing. At the same time, the destruction of Ukrainian state symbols, hated by local citizens, continues.
To break the wooden outline of the coat of arms of Ukraine on May 22, a Russian BTR-82A was involved in one of the streets of Kherson.
The dismantling of symbols of the Kyiv regime in Kherson began shortly after the entry of Russian units into the city. So, in early April, local residents dismantled the monument to the so-called Heavenly Hundred on Perekopskaya Street. Kherson residents removed the portraits of "Maidan and ATO heroes" hanging there and removed the flags of the EU and Ukraine.
Also in April, previously banned Russian radio and TV channels started operating in the city and the region, and on May 21, Radio Krym began broadcasting at a frequency of 107,8 FM.
Trade relations of the Kherson region with Russia are also expanding. So, on May 21, a trading network for the sale of essential goods from the Crimea and other Russian regions resumed work in Kherson. In stores you can buy food, personal hygiene products and household chemicals. The shelves of retail outlets are filled with the necessary products, which are delivered daily from the Crimea.
Earlier, the head of the military-civilian administration of the Kherson region, Kirill Stremousov, noted that Kherson is a primordially Russian city and the nationalist ideology has always been alien to the locals.