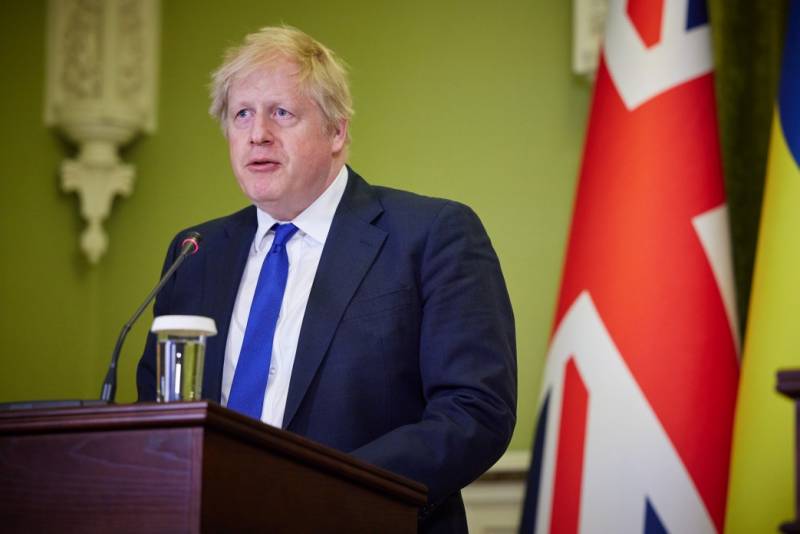 The desire and desire declared by all parties to resolve the conflict in Ukraine through negotiations is moving further and further away from reality. The only way to get out of this situation is pushed back by the efforts of only three high-ranking officials from the government of the United Kingdom. Bloomberg columnist Pankaj Mishra writes about this.
According to the expert, Prime Minister Boris Johnson, Foreign Secretary Liz Truss and Defense Secretary Ben Wallace have literally found an increase in their political well-being in the conflict in Ukraine. For example, for Johnson, Vladimir Putin's special operation began at the most opportune moment for him and actually became a salvation. In February, hard days just came for the British Prime Minister, he was implicated in violating his own quarantine laws, which were introduced by the government under his leadership.
Given these circumstances, Johnson hastened to send military assistance to Ukraine, and one of the first among world leaders to take this step. He then became the only Western European leader to visit the Ukrainian parliament in person. His rousing speech, which attempted to imitate Winston Churchill, made Johnson almost a Ukrainian hero, even though at home he became the first sitting British prime minister to face criminal sanctions.
The problem is that Johnson is effectively instigating a hot phase of the conflict in which the UK is not involved. Instead, Ukrainians fight and die, while their country is devastated
Mishra writes.
The expert believes that Johnson chose Churchill as an idol not in vain, because Johnson's predecessor was also saved from collapse by a big war, overshadowing his "incompetence and opportunism." Moreover, even leaving the post of prime minister will not save either the UK or Ukraine. After all, his "deputies" Truss and Wallace are even more militant than the current head of state. All these officials, for some unknown reason, are sure that the confrontation will be good for their careers. In this case, Kyiv is just a bargaining chip and a means to an end.
Therefore, even accepting the necessary help from these people, Ukraine should be wary of "gifts" from British friends, since military successes will at best provide it with a good position in negotiations with Russia, and not a complete victory. Moreover, pumping weapons does not guarantee the return of the Crimea, which fanatical British sponsors demand from Kyiv.