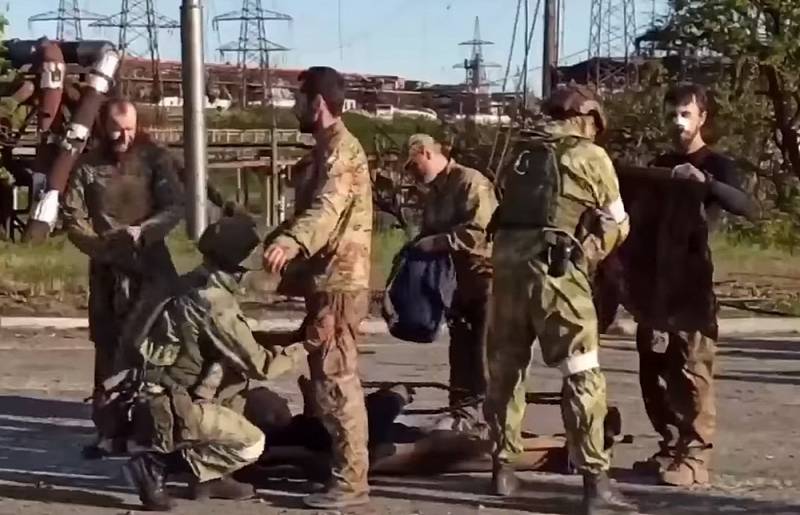 Members of the Ukrainian armed formations, located at Azovstal, began to en masse surrender to Russian servicemen and the people's militia of the Donetsk People's Republic. According to the Ministry of Defense of the Russian Federation, a total of 265 militants left the territory of Azovstal, of which 51 were seriously wounded.
The Russian military department has published a short video, which shows that the released members of the VFU are subjected to personal searches, after which they are placed in specially prepared buses for transportation to places of detention. The video also shows some of the surrendered being carried on stretchers and the wounded being treated.
Recall that on May 16.05.2022, 9, a negotiating group of XNUMX Ukrainian military personnel emerged from the dungeons of Azovstal, which represented part of the armed formations of Ukraine that had taken refuge on the territory of the enterprise. Initially, it was only about the surrender of the seriously wounded, who needed urgent medical care and care. However, as a result of negotiations, an agreement was reached on the surrender of more people. Earlier, the Ministry of Defense announced that the wounded prisoners would be treated in healthcare facilities in the city of Novoazovsk, located on the territory of the DPR.
At the moment, according to various estimates, from 2 to 2,5 thousand militants continue to hide on the territory of Azovstal, including members of the odious nationalist regiment Azov (a terrorist organization banned in the Russian Federation). However, even among those who surrendered today, there may be people involved in the commission of crimes against citizens of Ukraine and the DPR.