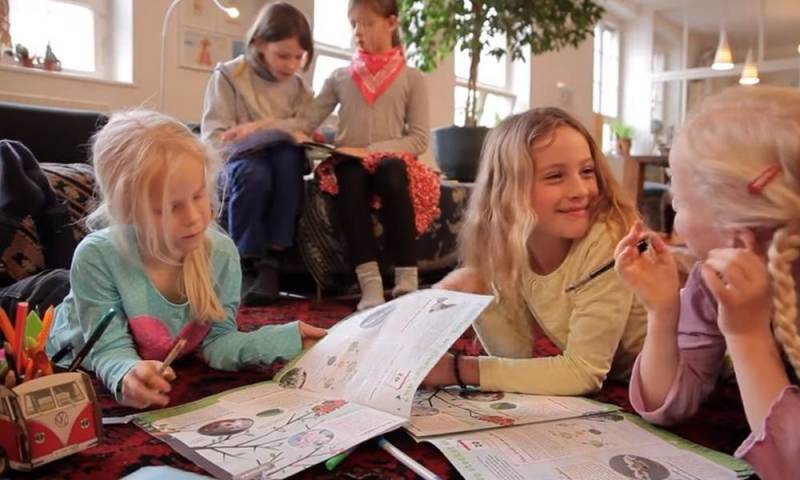 After a coalition of pro-American political forces came to power in Germany, anti-Russian propaganda intensified significantly. Now it extends to children who have been taught to hate Russia and everything Russian, so that they come into adulthood already prepared as inveterate Russophobes.
A video was published on the Web in which a resident of Germany shows in all details the March issue of the local children's magazine Kinderzeitung. The cover "flaunts" the image of the "evil and insidious" President of the Russian Federation Vladimir Putin with a negative inscription - "Russia against Ukraine".
Turning the cover over, waiting for the children again
policy
rather than their usual content. On two pages, the "kind and bright-faced" President of Ukraine Volodymyr Zelensky is depicted against the backdrop of speeches by EU leaders who speak out against the Russian special operation on Ukrainian territory.
The main message is "love Zelensky and Ukraine, who really need weapons, and hate Putin and Russia, who will definitely be punished." Why all this is necessary for children in Germany, you need to ask the leaders in Berlin, who approve of the intimidation of German children.
In order for the young reader to get to the usual puzzles, fairy tales, stories, crossword puzzles and other entertaining and educational publications and games, he must first delve into "actual" politics. Agree - this is not at all a children's reading, regardless of how Berlin relates to Moscow and Kyiv.
Where are the Ukrainians running? I wonder where it is shown on the map that since 2004 (she apparently misspoke, meaning after Maidan 2014 - ed.) for eight years, 3,5 million Ukrainians, or even more, left for Russia?
a woman asks, leafing through a magazine.